Fitbit Charge Review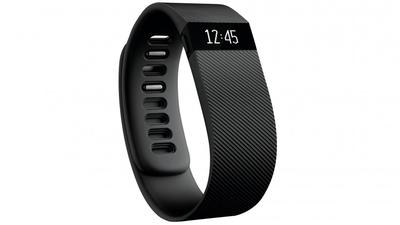 There are numerous models of wireless fitness tracking devices available. Deciding which one is best for you can be difficult. Fitbit has become a reputable name in this market and has several products available for people who want to take charge of their fitness and health. One of their most popular models is the Fitbit Charge.
The Fitbit Charge can easily be considered a complete tracking device. You are able to input foods and beverages from your daily meals to watch your caloric intake. You can also keep an eye on the following:
->calories you burn
->steps you walk
->flights of stairs you climb
->hours you sleep
->total activity time
While tracking these activities on a regular basis is beneficial, the real value the Fitbit Charge give you is allowing you to obtain a clear picture of your current level of fitness and health and learning if you need to make modifications. Simply connect the Fitbit Charge to a computer or smartphone to sync your data and view your progress from the associated app—from just about anywhere. The app provides visual graphs and charts of your activity data that for effortless analysis.
A unique feature that is popular with customers of the Fitbit Charge is that it syncs with supported smartphones as far as 20 feet away. Caller ID on the wristband lets you know about incoming calls.
Since the Fitbit Charge is an electronic device that relies on wireless technology, battery life is a natural concern. According to the manufacturer, the device can last up to 10 days when fully charged.
Another common concern is water. The Fitbit Charge is water-resistant, but not when emerged in water such as in the shower or swimming.
Fitbit has a range of wristbands that consists of everyday fitness, active fitness, and performance fitness. The Fitbit Charge is the high-end variety for everyday use. This one differs from the other two active and performance bands because it is absent of continuous heart rate monitoring and GPS tracking. Similar devices offer a small and large size. The Fitbit Charge is available in small, large, and extra-large. The Fitbit website contains information that can help you choose the best size.
Users of the Fitbit Charge give it high marks. Accuracy, the alarms for met goals, and ability to tap the display for information are very common likes. There are also cheers for the display that is easily readable both day and night. There are a significant number of complaints about the design of the clasp. The manufacturer has information on their website about how to make sure the device is secure.
The Fitbit Charge costs about $130 and is available in black, slate, blue, and burgundy.
Final Words: The Fitbit Charge differs from other high-end wearable tracking devices in that it does not track your heart rate, does not have music control and notifications, and does not offer GPS tracking. However, we give the device a passing grade because of its spectrum of features that enable wearers to develop and maintain a healthy fitness profile.

Join in and write your own page! It's easy to do. How? Simply click here to return to Reviews.