As Seen on TV Exercise Equipment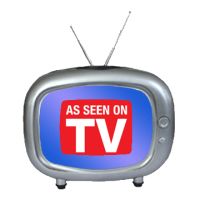 Every year, millions of television viewers whip out their credit cards and order
"as seen on TV" exercise equipment
that they have seen in infomercials. Sadly, not all exercise machines and equipment are made equal and if you see a product that interests you, it is always in your best interest to try to find out as much about the product -- and what it does as you can.
Is All "As Seen on TV" Exercise Equipment a Sham?
Absolutely not. Thousands of different types of at-home exercise equipment make it to the market each year, all claiming to be the only product you need to get your body in perfect condition. Unfortunately, while many of these products will help you improve your health and fitness, most of them do not live up to their claims. While many products fall short of their promises; however, a number of standout products do exactly what they claim to and those are the ones that you should consider purchasing.
How Will I Know Which Products are Best?
Honestly, if you have never tried a particular "as seen on TV" exercise equipment product, you are not going to know whether or not it works. If that's the case however, it seems almost impossible to avoid wasting money ordering products that may or may not work. Fortunately, if this product has been out for any length of time, it is likely that hundreds, if not thousands of people have already purchased and tried this item and many will likely post reviews and feedback online that can tell you more about the pros and cons of this item.
Read through as many reviews as you can get your hands on and note any trends in comments. If you see more people say they had a positive experience than a negative one, chances are the product is effective. On the other hand, if you find yourself reading review after review talking about problems that people had, that product may be one you want to avoid.
What Kinds of Products are Out There?
If you watch late night television or view programs on cable channels chances are that just in the last month that you have likely seen at least parts of dozens of infomercials trying to sell you one piece of "as seen on TV" exercise equipment or another. This particular market is very broad, mostly because there is such a wide range of issues that people have with their bodies that they are looking to fix. It goes without saying that regardless of what type of body issue you may have, there will likely be at least a dozen or so products on the market that are geared towards that issue. Some of the most common issues that "as seen on TV" products are geared to work on include:
weight loss
building muscle
toning
strengthening
While these are the most popular 'goals' that these products fall into, it is also important to know that for each of these goals there will be numerous products that are meant to help you achieve that goal on certain areas of the body. Some of these main problem areas include:
total body
stomach and abs
arms
legs
back
thighs and buttocks
If you are considering the purchase of "as seen on TV" exercise equipment that you really take the time to do the research to make sure that this product lives up to its claims before you purchase. Hundreds of products exist to help you meet your fitness goals, however most are mediocre at best and if you as a consumer are going to spend your hard-earned money on a product it is always in your best interest to find out as much as you can before purchasing.
---
This list is getting long and unwieldly but the search bar at the bottom of the pages works well if your looking for something specific.
Body Jac
If you struggle to get through a single pushup this might be the right equipment for you
Ab Glider
The ProForm Ab Glider comes with a sturdy steel frame that is made with durability in mind
California Mini Stepper
Should you give some consideration to the California Fitness Mini Stepper?
Shake Weight Review
Here we have another targeted muscle exercise. The Shake Weight may help your arms but that is all you get
VP 1000 Vibration Trainer
Can the vp1000 vibration trainer shake the weight off of you or is there more to it?
Ab Circle Review
Are the claims too good to be true. Most likely, but it might still have some merit. See the full review for the details.
Perfect Pullup Review
From the makers of the perfect push up, but is it worth it??
Perfect Pushup Review
Does the oh so popular Perfect Pushup hold its own
Perfect Situp Review
The Perfect Situp Review looks to see if this will help your form.
Iron Gym Review
Possibly an affordable pullup bar that doesn't damage your doorway
SoloFlex Review
Will the rubber bands provide enough resistance to get a quality workout?
Red Exerciser
Consumer Report gave it good marks but will it work for you?
Air Climber
Big claims for a $100 dollar item, but stand up to the test?
Malibu Pilates
Anything Pilates related is bound to do well these days, but this is worth a look...
Bowflex Treadclimber
As for the products that you see on TV this one will most likely be around for a while. Initially I thought that this was the same a treadmill at an incline but I was certainly wrong. recommended
Leg Magic
Ladies, this is what I hear so much concern about. Hips and butts are the biggest point of concern for women trying to shed some pounds. Here is the spot reduction tool that is designed just for that area.
Perfect Pushup
As the author of this site and someone who has permanent wrist problems from a sports related injury, I highly recommend this product.
Bowflex Home Gym
Recommended.As home gyms go this is one of the best. Pricey but there's a lower priced alternative. Click for more details...
Bun and Thigh Max
Not the best feedback for this simple exercise product.
Mini Trampolines
Some are surprised to see how much doctors and physical therapists like rebounding as a healthy cardio exercise.
Bun and Thigh Rocker
Expensive for what it does but well made and comfortable to use. Click for a full review.
Cableflex
Won't build huge muscles but is good for strengthening and toning. Brilliant for circuit training. Click for the full review.
Gazelle Freestyle
Recommended. Excellent reviews for very satisfied customers. High qualtiy and fun. Click for a full review.
Orbitrek
Recommended. Offers a great aerobic workout and is much more affordable than traditional elliptical trainers. Click for a full review.
Thigh Master
Simple but effective. More of an accessory than a complete solution though. Click for a full review.
Total Gym
Recommended. Used by rehab and exercise facilities across the world. One of the best pieces of as seen on TV exercise equipment ever. Click for a full review.
Total Tiger
Hasn't received the best customer reviews and expensive for what it is. Click for a full review.
Weider Crossbow
Recommended. Another excellent and innovative home gym. Similar to the Bowflex but half the price...
Ab Exercise Equipment As Seen on TV
If you are looking for one of the many infomercial
ab machines
we've dedicated a whole section of the site to them. Click
here
to have a look.
---