The Gazelle Freestyle Reviewed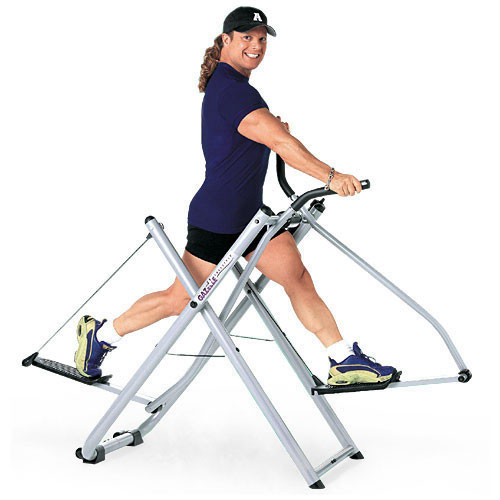 The Tony Little Gazelle Freestyle has received some excellent independent reviews. Similar to the elliptical trainers found in gyms it's designed to provide an effective aerobic workout with minimal stress on the joints.
As with all infomercial fitness products it's important to look past the hype and do a little research. If you want to know just how good a piece of fitness equipment really is, visit message boards and forums where customers can post reviews on their purchases.
And what do customers say about this product? Unlike for most as seen on TV products the consensus is fairly unanimous. Customers seem thrilled with the product and have no regrets in paying the $200 or so.
Unquestionably, the greatest praise the Tony Little Gazelle Freestyle receives is for the thoroughly enjoyable workout it provides. If the challenge of persisting with an exercise program, and indeed a piece of fitness equipment, is the biggest threat to your success, then the Gazelle Freestyle has a lot going for it.
As for the intensity of the workout it provides, feedback is mixed. Some report an intense, sweat-provoking exercise session, while others find it hard to reach their target heart rate. The quality of the equipment is excellent. It's sturdily built and won't move round like some lighter weight machines do. Which brings up another point...
If you plan on moving your Freestyle around and putting it away after every workout you might get a bit frustrated. It's heavy and awkward to move and won't fit under the bed or into a normal sized closet.
Another shortcoming of the Gazelle Freestyle is the computer unit. It's fairly basic but then it's not responsible for burning the calories! Some consumers report that their Gazelle Freestyle is not completely silent, reporting a slight "squeaking" noise when in use. However, they don't find it a problem.
In comparison to most aerobic exercise equipment, Tony Little's Gazelle Freestyle is very reasonably priced. A very basic treadmill, exercise bike or elliptical trainer will set you back between $400 and $500, which is twice as much as the Gazelle.
If you're the kind of person who knows they should exercise but hates the prospect then by all accounts this machine comes highly recommended. If you you've failed to persist with fitness machines in the past then this could offer a solution. And if you want an alternative to running outdoors for the winter months, it's a low cost rival to a treadmill or exercise bike.
Most infomercial products retail for considerably less on the Net. And as with any online purchase keep to reputable, well-established stores that offer solid, money back guarantees...
---