Bowflex Treadclimber Review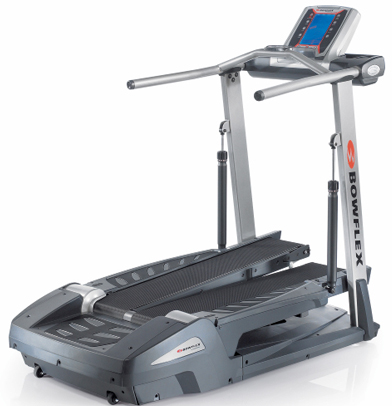 "Get the Body You Want in Half the Time." That's what Nautilus, the makers of the Bowflex Treadclimber, promise its users will obtain. This is a bold statement, but this machine may just be able to back up the statement. The Bowflex Treadclimber actually functions as three fitness machines in one: a treadmill, stair climber, and elliptical. As individual components, these machines tend to have an intense impact on the condition of the knees and joints over an extended period of time. The Bowflex Treadclimber takes the best of all three machines to produce equipment that provides a low-impact workout that will expend your excess calories and help to condition to your heart.
The key to the Bowflex Treadclimber being able to facilitate a high calorie burn and increased heart rate while minimizing impact on your joints is its dual-motion treadle system. The pedals, which look similar to those of an elliptical, lift up and under your foot. You have to physically lift up your feet throughout your workout. Instead of just focusing on one group of muscles, this fitness machine forces you to work a series of muscles, which equates to a high calorie burn.
There are five Bowflex Treadclimber modes, each featuring multiple functions, a resistance range from 0 to 12, adjustable speeds, LCD console, and transport wheels. The higher-end models include advanced features, such as a wireless heart rate monitor, climb and calories burned indicators, and ergonomic features (cup holder, magazine rack, and ergonomic bar). The Bowflex Treadclimber TC5000 is the only model that includes the Bowflex Advantage feature, which enables the equipment to keep track of results from multiple users (maximum of five).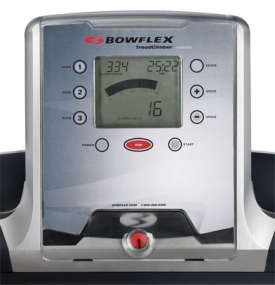 The Bowflex Treadclimber has received positive reviews from both the general public and specialists. Consumer Guide magazine gives this fitness machine a high rating. The main complaint that some people have had with this fitness equipment is assembly. This unfortunately is a complaint for large fitness equipment in general. In the rush to hurry up and put the Bowflex Treadclimber to the test, it's possible that many people are rushing to assemble the equipment. It is recommended that you set aside at least an hour to assemble the equipment and refer to the book that accompanies the equipment.
Cutting edge seems to accurately describe the Nautilus Corporation. Since the 1970s, this company has designed and marketed fitness equipment for both commercial and individual users. The Bowflex Treadclimber is fitness equipment from one of the six brands under the Nautilus corporation name. The Bowflex brand has been in existence since the early 1980s and is one of the most well known providers of home fitness equipment (who hasn't seen their infomercials?).
The good news about the Bowflex Treadclimber is that you have five models from which to choose. The following table shows how the five Bowflex Treadclimber models compare.
Model
Walking Speed Range
Calorie Tracking
Heart Rate Monitor
Dimensions
Price
TC1000
0.5 - 3.8 mph
does not display calories burned
No
46"L x 28.5" W x 55.25"H
1500.00
TC3000
0.7 - 4.0 mph
displays calories burned
Yes
46"L x 28.5" W x 55.25"H
2100.00
TC5000
0.5 - 4.5 mph
displays calories burned
Yes
63"L x 32" W x 61"H
2500.00
Prices above are for comparison purposes only and are subject to change
In essence, the Bowflex Treadclimber is a fitness machine that provides a workout that is equivalent to using three different machines. If money is a high priority, you can obtain a mid-level Bowflex Treadclimber and possess a machine that includes many high-end features. The features are varied among the models, so you can find the one that is appropriate for your needs.
---