Jackie Chan's Cableflex Reviewed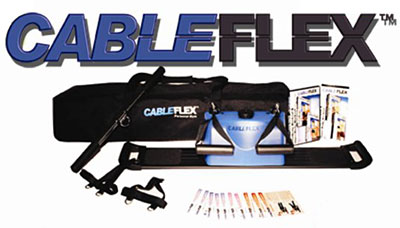 Jackie Chan's Cableflex promises a complete solution to all our fitness needs. Like all as seen on TV products the infomercial is convincing...
Apparently it replaces a whole gym full of equipment saving you thousands. It's variable resistance means it's suitable for novices right through to the advanced. And it's portable enough for you to take to work... should ever feel the urge!
Putting the hype aside for a moment just how effective is the Cableflex and is it really a low cost, cure all for the out of shape? Let's take a quick look...
It's clear from the moment you start using the Cableflex that it's not designed as a bodybuilding tool. There is too little resistance to build significant muscle mass if that's what you're after. But if you just want to improve your strength and tone up then the resistance is more than adequate.
For a machine that apparently replaces an entire gym full of equipment you'd expect it to at least occupy the space under you bed. Not so. Its compact design means it will even fit in your briefcase! But just to give you a comparison Therabands (exercise bands used by many Physical Therapists) will fit into your shirt pocket and you could say they also "replace an entire gym full of equipment".
In my opinion, by far the best use for the Cableflex is for a home circuit training program. For some reason it's a huge selling point the marketers fail to emphasize...
As you probably know circuit training is one of the most efficient ways to develop both strength and endurance in one workout. And crucially it's anything but boring! Traditionally it requires a lot of room and a lot of equipment so for me, this is by far the biggest strength of the Cableflex. For example... You could choose 15 exercises and perform them back to back, each for 90 seconds. That's over 20 minutes of exercise and it will fly by! The Cableflex has so many exercises that the combinations are endless...
You could do a lower body routine on Mondays and Thursdays and an upper body routine on Tuesdays and Fridays. Wednesdays and the Weekend are rest days!
Jackie Chan's name is on the logo but this product is now endorsed by JP Burns. So if your interested in circuit training at home with nearly no investment in space, give the Cable Flex a try.
Click here to read about one of our users personal experience with the Cableflex
---