Leg Magic Review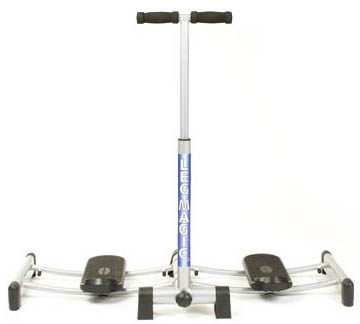 Is the Leg Magic worth the money? Does it hold up to the TV and internet advertising claims? Why does Leg Magic look so much like my daughters scooter? Our Leg Magic Review will answer these questions and help you make your decision as to whether or not this product is right for you.
First, to answer the value for the money question, we must understand the concept behind exercise equipment and why there are thousands of different products on the market. We are all individuals with different levels of motivation. Some of us can utilize the same equipment for years while others are motivated by the latest cool new gadget on the market...both benefit from their exercise efforts. So if you want to target your inner thighs, outer thighs, buttocks and abs and are willing to follow the Leg Magic plan, this is certainly a good value for the money.
The device has a horizontal sliding track that glides easily, weighs 20.6 pounds and folds for compact storage. It will accommodate all heights and has a weight limit of 250 pounds. There is no assembly required with the Leg Magic. There is a professional model for an additional $30 which comes with Power Stands that they claim increase the level of resistance. We see no proof of the resistance claim, but certainly if you are using this product on hardwood or tile surfaces, it is worth the additional $30.
Will the Leg Magic last? The construction is sturdy and not at all flimsy. The claim of this product is that it will aid in spot reduction in a few 60-second workouts a day, so it is not like a treadmill or an exercise bike and if used properly, should have little wear and tear over time.
Does the Leg Magic hold up to the advertising claims? The "As Seen on TV" network has an incredible approach to marketing their products. Some people are skeptical about such advertising.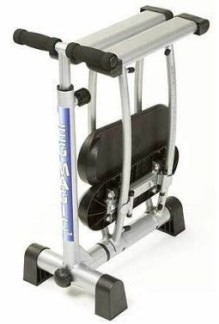 Does this mean the products on the "As Seen on TV" network are not quality products, absolutely not! Although some have had questionable durability issues, that is not the case with the Leg Magic. Now for the claims of losing 9-11% body fat and 10-11 inches. We certainly cannot prove or disprove that claim, but must point out that Leg Magic is paired up with an Eating Nutrition Guide and Workout DVD. In order to achieve the claims of reduced body fat and inches, you must cut calories and get more cardio exercise while on their plan.
You will feel the burn inside your thighs with Leg Magic. A recent Consumer Report Magazine stated "It will strengthen your inner thighs".
Why does Leg Magic look like my daughter's scooter? That most likely has something to do with the handlebars and grips, but that is just a way to avoid reinventing the wheel.
---