The Total Gym Reviewed
The Total Gym is used by more than 7000 hospitals, rehabilitation clinics and fitness center's across the world. That's a great testimonial for a product that is often unfairly placed in the category "as seen on TV gimmicks".
This is no gimmick. It's stood the test of time and rates up there with home gyms ten times the price. It has a few minor flaws but on the whole it offers excellent value for money. For the uninitiated here's a quick recap of how it works...
It uses body weight as resistance against the consistent pull of gravity. You adjust your body on the glide board, which rolls up or down on an incline plane, allowing you to become the weight. You literally "pull or push your own weight" up the incline.
There are various levels of resistance, each representing a percentage of the users body weight. This percentage translates into pounds used as resistance. You simply raise or lower the incline of the Gym to increase or decrease resistance. So what do customers say about this product?
Go to a site that sells these and obviously you'll only find glowing reports. But research independent sources that document both good and bad comments, and you'll find exactly the same -- glowing reports.
It seems that the vast majority of the users love their purchase. It's easy to set up, effective at strengthening and toning muscles and fun to use. Using your body weight as resistance eliminates compression on the skeletal structure protecting the joints and back... another well-received benefit.
As an Exercise Physiologist, I've used the models 1000, 2000, and 3000 throughout the rehabilitation process. It works well with athletes recovering from injury and older, deconditioned adults by enhancing stabilization, balance and coordination. Very little strain is placed on the back and joints.
Are there any negatives?
Firstly it is quite heavy and bulky and while this makes it sturdy it is also difficult to move around a lot. It does fold up but unless you have enough room under your bed, it looks a bit of an eye sore leaning against the wall. Secondly this is not for bodybuilders. If your goal is to build huge amounts of muscle mass, stick to the gym. There simply isn't enough resistance to "pump iron".
I would add one more slight criticism. The manufacturers lead you to believe you can perform effective aerobic workouts this product. I find the aerobic exercisers a bit boring and far too easy. What I do is set up a circuit training program on the gym, for clients who want an indoor aerobic exercise session. It's perfect for this!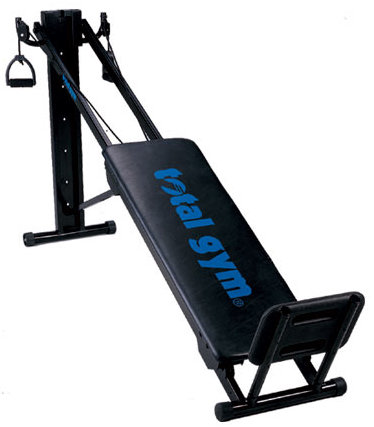 There is More Than Just One Total Gym
There are several different models to choose from. The one above is the Total Gym 2000 and I have no problem recommending the cheapest model they offer. Currently it is the 1700 club or 2000 models. They run about $400 dollars and higher priced models can run up to about $3000. I don't know if you get enough features to spend that much on a total gym system, but regardless if you think the features are right for you then go for it. As I has said before if it gets you to use the equipment regularly then it is worth it to me.
---