Malibu Pilates Review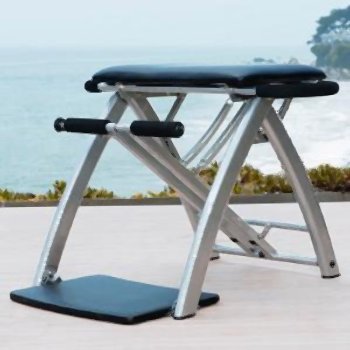 This Malibu Pilates review is here to dispel the myths about this product and its ad campaign. Here we will focus on the price, functionality, and the marketing campaign that makes this product sell. Before we move any further with this review I want to point out that complicated equipment is not required to get a good workout.

Having said that, let's start with the price of the Malibu Pilates Chair. It looks like it might vary a little but the going rate is about $350. This money does get you more than a stool with a spring loaded step. These are the items that I feel might make this worth while. The hardware alone is not worth the money, but if you have someone on DVD showing you how to use it and going through the motions with you, then it might very well help get the job done.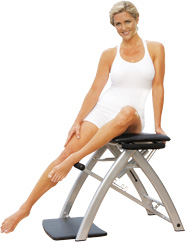 Let's breakdown what you are getting:
The chair itself which folds for easy storage
Very little assembly required
Basic Breakdown (The how to video)
20-Minute Malibu Pilates routine
Total Dream body Sculpting Workout (This is about an hour)
30 day money back guarantee
Diet plan
A wall chart
Wall charts are useless unless you have a dedicated room to exercise so that doesn't have much value added. The diet plan is more of a marketing thing so we'll get to that later. The rest of these are worth valuable money and if you will notice I included the assembly part as its own bullet because that will make or break many peoples decisions. So besides being easy to use and setup, there are also instructional videos and workout routines. I believe that will help many people in achieving their fitness goals.
Now, for what I am not so fond of about the Malibu Pilates Chair. Today's terrible marketing techniques that are employed all over the various forms of media. Whether it is Radio, TV, print, or internet it just feel like somebody is trying to deceive us. These outrageous claims of losing so many pounds or dress sizes is just ridiculous. This "As seen on TV" product has managed follow what every other marketing campaign has done and share some success stories. However, one interesting part is right under the two success stories on the front page is the line "Results are not typical. Your results will vary." This is down right funny. They are not even claiming that you will get these results.
How can you get these results with a product like this? That is where the included diet plan comes in the picture. Most of the wonder programs for weight loss are going to include a section regarding diet and that the product will help you lose weight if combined with a healthy diet. This will significantly help the company if someone decides to take legal action.
Conclusion
The Malibu Pilates Chair will aid in a healthy lifestyle if used regularly. Here is a great place to point out that there is no magic involved. If you work hard exercising and watching what you eat then you can lose weight and feel good. So this product is trying to compete with a personal trainer, nutritionist, and a gym for less than $400. Having pointed that out, this is a cheap alternative to all those items. If you are dedicated to living healthy, then Malibu Pilates might just work for you.