Ab Circle Review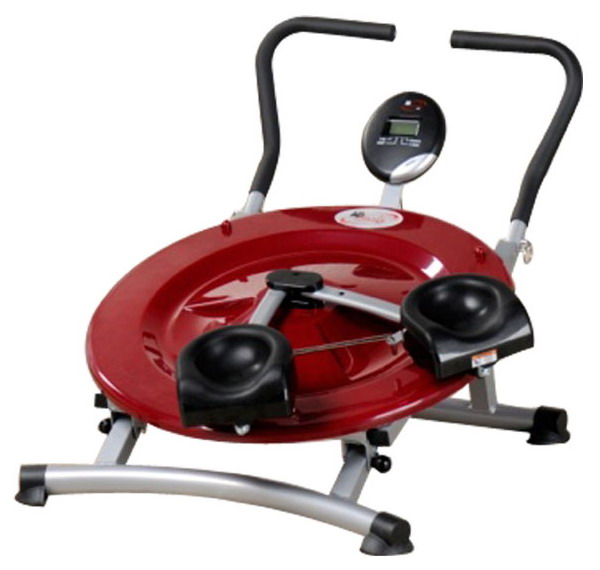 Everyone would like to have a flat, washboard tummy and tight toned abdominal muscles. But the thought of laying on your back for hours of grueling crunches, does not appeal to anyone at all. The Ab Circle Pro
promises, that you will get up off the floor and into a sleeker, smaller pair of jeans. They back up their claims with a money back guarantee.
The concept is simple, you put your knees in the little cups, you hold onto the handles and you twist your way to a smaller waist, tighter abs and a toned core. By making a simple adjustment on the machine, you can change the focus to your thighs, hips and backside as well. The infomercial for this product shows a lot of smiling faces, looking like they are having the time of their lives, but does the real world, average user agree?
First, the technical side of the machine itself: It is a basic circle, made of a durable plastic material set on steel tubing legs. The dimensions of the Ab Circle Pro machine are 38"L x 25.25" H x 26" W and will hold a maximum weight of 275 pounds. An updated version of the machine has steel rails that protect the disc from scuff marks caused by normal usage. In addition to the machine, you receive a three minute, express workout DVD to use. An optional rep counter can be purchased and easily installed on the machine as well.
Users of the Ab Circle Pro have mixed feelings about the machine, the workout it offers and the potential for results. However the majority of the overall reviews were very positive. One thing that was a negative, almost universally, was the price, especially for those who were looking at the trial offer. For $ 14.95 you can try it out for thirty days, "risk free" and return it, or make payments. The payments will bring you to just over $200. When all is said and done and if you do choose to return it, it will be at your own expense.
The makers of the Ab Circle Pro insist that you can target and tone your abdominal section, in as little as three minutes a day. However, even the most optimistic exerciser is aware that it takes far more time and effort to get really measurable results, even with a really great machine. Some users reported having sore arms from the positioning on the handles, although adjusting hand spacing may alleviate this for most users.
Another complaint stems from sore knees - you are putting your knees into molded cups while you are exercising, however if you buy your machine from Walmart.com rather than the infomercial, you receive four gel inserts to aid with this. This is an upgrade you could do easily on your own as well.
The bottom line for this product: although you cannot technically spot or target tone your abs alone, and you certainly cannot get the dream abs depicted on the infomercial in three minutes a day, this is a fun machine to add to your existing or new exercise routine. It may take a little bit of coordination to get the hang of the motion, especially in the hips and thigh workout portion, but once you do, it is very enjoyable and fast paced.