Iron Gym Review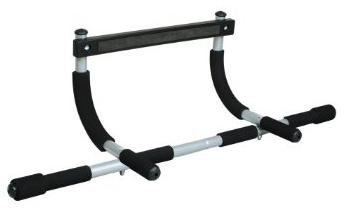 People have a lot of different reasons for not exercising, probably the most common reason being lack of time. These are hectic times and people have to work hard to fit exercise in their schedules. There are plenty of exercise machines available that people can use at home. However, many of these can be expensive and take up a lot of space. The Iron Gym is a piece of exercise equipment that leaves no room for excuses. Anyone just about anywhere can easily use this equipment to obtain a good workout on a regular basis.
The Iron Gym consists of a steel bar that you use to perform a variety of upper-body exercises. You can also perform exercises on the floor and doorway to work your midsection. The bar fits between any space that measures between 24 and 32 inches wide, but you can also use it on the floor to perform pushups and situps. At first glance the Iron Gym you may feel a lack of confidence in its ability to safely hold an adult body securely. However, it is constructed of steel and designed to support up to 300 pounds.
Pull-up or chin-up exercises that produce the bulky muscles that men are typically after may come to your mind when you think of the Iron Gym, but this fitness equipment offers much more. Women can use the Iron Gym to tone their upper body and abdominal muscles. Back problems are common among adult. The Iron Gym is an excellent tool to strengthen the back. The equipment ships with an instructional manual that includes recommended exercises to perform using the equipment. A simple piece of equipment doesn't have to mean boring. In addition to allowing you to perform a variety of exercises, the Iron Gym also allows you to grip the bar using three different positions: neutral, wide, and narrow.
People are generally enthusiastic about the Iron Gym, mainly because it is simple to use and allows people to take the equipment with them where ever they go and exercise. Other similar equipment requires that you drill holes in your door or wall to fasten the tool. The only assembly necessary for the Iron Gym is a metal clamp that you install by hand to keep the bar in place. The price is another attractive feature of this equipment. For $29.99 you can have a reliable source to work your upper body and midsection. This equipment would complement a workout routine that includes aerobics, running, walking, or any other lower-body routines. The only qualm that people have about the Iron Gym is that it is advertised to be effective for tricep dips, but when placed on the floor there is only a few inches room, which doesn't provide enough room for an effective tricep dip.