The Total Tiger Reviewed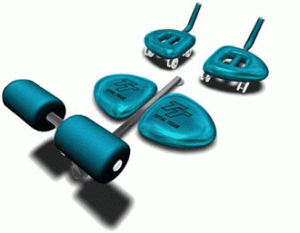 The Total Tiger, like most as seen on TV fitness products, makes some big claims. For those of you who have forgotten what they are here's a quick reminder...
Works you hips, thighs, buns, abs and upper body
Does all that in just minutes a day
Suitable for beginners and caters for the more advanced
Portable so you can take it with when you travel
Clinical studies show it to be more effective than selected other fitness machines
The Total Tiger works on the same concept as the Ab Slide and Ab Dolly. However, the separate gliders allow you to work muscle groups other than just your abs. Some online retailers refer to clinical studies that "prove" the Total Tiger is more effective than selected competitors...
Take this with a pinch of salt. It's very easy to compile a test or interpret the results in a way that makes your product look the best. The Total Tiger may very well be more effective than products like the Ab Slide and Ab Dolly but it still comes down to individual preference.
For me, no "clinical test" is as convincing as independent customer reviews. According to a few consumers the Total Tiger is made from "cheap materials", can break easily and is looks different from the model you see on the infomercials.
Other complaints include the difficulty of some of the exercises, particularly for taller people, and pressure it puts on the knees.
As for the workouts most users agree that it does work both the upper and lower body very effectively. If you use the Total Tiger consistently over time, and you're out of shape to start with, you will see beneficial results. The question to ask yourself is whether your efforts will be more greatly rewarded using something else.
As a whole-body exercise machine, the Total Tiger is relatively inexpensive. Shopping around online will save you between 10 and 20% but always stick to a well-established Internet retailer.
Total Tiger is no longer available but not to worry there are more options than ever depending on what you wanted to use this for. Check out the ab machine page if you wanted it for the stomach benefits or the as seen on TV page if you wanted more of a whole body workout..
---