Fitdesk x 2.0
by Hospicio Vibar Jr.
(Queens, New York)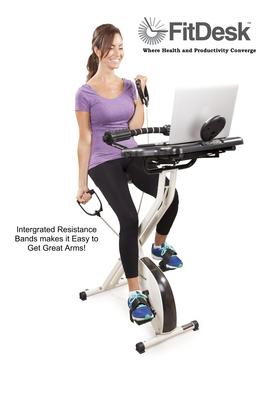 Our children gave us a fitdesk x 2.o for Christmas. The delivery man left it behind the gate on our driveway to our backyard. When we opened the package, we found that the plastic desk drawer was broken, probably due to being dropped behind the gate. Maybe it should be made of a less breakable material. All the other parts were in good shape. Assembly was not difficult except for the massage bar. Trying to attach the massage bar is "mission impossible". If you fit the two ends into the notches the holes are not aligned so the knob bolts won't fit and cannot be tightened. So we are using the equipment with only one end of the massage bar secured. Longer knob bolts will only help a little. Not a good thing.
As far as using it, the seat should be 2 inches longer and could use a little more cushioning and the backrest might be a little too close to the seat. I am only 5 ft 5 inches. Imagine how it would be for taller users.
My son, Lysander ordered a replacement drawer weeks ago and We still don't have it.
My wife and I are using it 3 to 4times a week. It should help us get in better shape.
Join in and write your own page! It's easy to do. How? Simply click here to return to Your Reviews.