Jogflex Mobile Muscle Toner
by Jeff Moyer
(Calgary)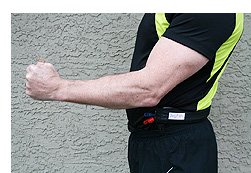 My name is Jeff I live in Canada and have been trying out various cheaper fitness products on the market.

I ran into a product called Jogflex while searching for toning belts online. Usually I see ab toning belts, this was actually a device that toned upper body muscles which I've never seen before.

I ordered it online and it came in the mail within a reasonable timeframe about 3 days. It attaches to your waste and you have two pullies in each hand you extend back and forth in front of you.

It has 3 settings of resistance, one for a light workout, one for a medium workout, and one for the hardest workout.

I started with the easiest setting and still felt the burn fairly quickly. You feel it work mostly in your triceps and shoulders, a little bit in your chest as well.

All and all it is a pretty decent product. The best thing about it is you can use it while you are on the treadmill. It lets you get in more of a workout longer which I like.

I'd give it probably 4 out of 5 stars so far. I felt that the belt was a little small for bigger people and tougher to put on.

Worth trying though especially if you walk or run a lot.
Join in and write your own page! It's easy to do. How? Simply click here to return to Your Reviews.