Water Rower Review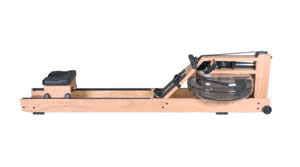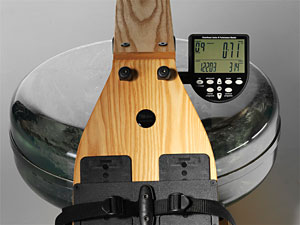 Circuit-training commonly refers to a workout routine that involves aerobic and anaerobic exercises. Aerobic workouts are ideal for cardiovascular fitness while anaerobic exercise helps to build and strengthen muscles. People typically invest in several pieces of equipment, including weights to obtain the benefits of both types of training. Many fitness machines are designed to provide a total body aerobic workout, but few provide the anaerobic exercise necessary to strengthen your muscles. Rowing equipment is typically considered an aerobic fitness machine. According to WaterRower, a manufacturer of rowing machines, their equipment provides both aerobic and anaerobic workouts.
Rowing facilitates a total fitness workout because all of your muscles are worked as you perform the exercise. With every pull of the handle, you solicit effort from your arms, chest, and shoulders, as well as your lower body. This is the basic function of every rowing machine. What makes rowers manufactured by WaterRower unique to others on the market is design. The company has a patented water flywheel that is designed to give the user a feeling that mimics rowing a boat. When you are seated on the rowing machine, the flywheel is situated just under your foot pedals and consists of two small oars that circulate in water within a large, round enclosure. As with other rowers, your workout intensity and resistance are determined by the amount of effort that you put forth. As you exert more or less effort on a WaterRower machine, the flywheel adjusts the level of resistance. You are in total control.
WaterRower, Inc. manufactures five rowing models designed for home use and two commercial models. The machines are broken into two basic categories: wooden and S1. There are no functional differences in the models. The main difference between the models in the two categories is the construction materials used. As you would expect, the wooden models are made of wood, including walnut, cherry wood, and ash. The S1 WaterRower machines are made of stainless steel. WaterRower home use products range in price from $895 to $2500.
Depending on the model you choose, WaterRower rowing machines include a control panel that provides feedback of your workout. Like other fitness machines, you can view the time elapsed, your speed, the level of intensity youre working, and monitor your heart rate. The equipment also tracks your stroke rate.
There are several extras for WaterRower rowing machines, including a monitor upgrade, an advanced Polar heart rate monitor, and software to enhance your performance. As WaterRower modifies the design of their equipment, you can purchase upgrades and have your machine retrofitted, if necessary. WaterRower offers several workout DVDs with instructions provided by professional athletes. If you need to lengthen your rower for someone with longer legs, extension rails are available. The equipment weighs about 120 pounds and is seven feet long. You simply fold up the rail and roll the machine to your desired storage location.
WaterRower, Inc. has been in business since 1988 and their main office is located in Rhode Island. In addition to the U.S., the company also has international offices.
Final Words: EER gives WaterRower rowing machines a thumbs-up. These machines are innovative, designed for user-controlled progress, and make it possible for anyone to achieve total fitness.
---