BodyCraft VR100 Review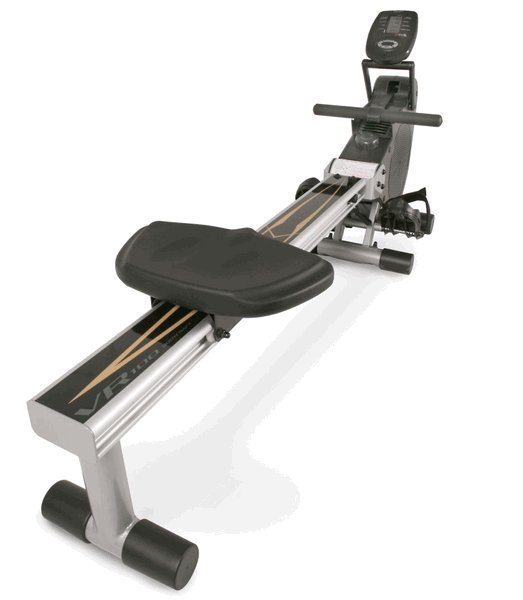 A rowing machine is a good choice whether you're interested in purchasing a home fitness machine for the first time or you want to simply add to your existing collection. As you would expect with the competitive fitness equipment market, there are many rowing machines from which you can choose. One machine you might consider is the Bodycraft VR100.
Most top-rated rowing machine cost near or slightly above $1000. The BodyCraft VR100 costs $700 and offers competitive features and benefits. The most notable feature on any rowing machine is the method of varying resistance. Rowing machines are usually either air or magnetic engineered. The BodyCraft VR100 is unique in that it provides both. However, you don't have the level of variety offered by most rowing machines. There is a single air resistance level and five levels of both air and magnetic resistance. Having both types of resistance at your disposal is a benefit because this means you can vary your workout.
There are several benefits of the BodyCraft VR100. From the display you can track standard items, including total calories burned, stroke count, speed, distance, and time. The seat is where you will spend all of your time, so the manufacturer was smart and made it ergonomic. There are precision-bearing rollers on the underside of the seat that provide smooth and comfortable movement. The BodyCraft VR100 also includes a couple of adjustable components. You can adjust the display height and angle according to your needs. There is three and a half feet for the pedals to travel, plenty of room for people of most heights.
The BodyCraft VR100 is inexpensive, but is not lacking in the quality department. The machine is constructed of steel and the same aluminum that is used to create airplanes. The company backs the equipment quality by providing a lifetime warranty on the frame of the machine and a year on its parts.
Home fitness equipment can be expensive, especially those machines that are considered top of the line. Many people who have experienced the BodyCraft VR100 report that it is a good value for the price. There is also praise for the operation and construction of the machine. Many of the users who offer reviews of this machine report that they favored other types of exercises before trying the BodyCraft VR100. However, after using the equipment, usually after suffering an injury performing another type of exercise, many users noted that they became avid rowers. Users also report that the BodyCraft VR100 operates smoothly.
Final words: EER gives the BodyCraft VR100 a thumbs up. This machine offers acceptable features at a great price. In addition, the rower is suitable for a household with people of varying sizes and fitness levels. We believe the construction also gives the equipment the potential to last for an extended period of time.