NordicTrack Elite 3200 Treadmill Review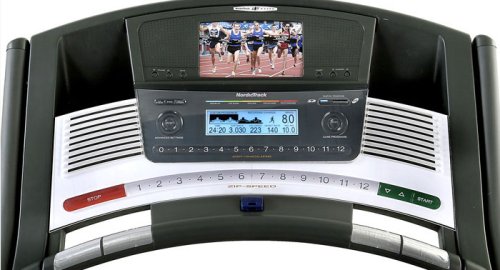 Treadmills are a staple in the equipment industry and so the competition has become pretty stiff. To participate in the marketplace, manufacturers of treadmills must offer a quality product with state-of-the-art features. Large companies like Nordic Track that provide an array of treadmills and other home fitness equipment are also bound to make strides to stay on top of the market. Since the late 1990s, Nordic Track has developed treadmills that challenge people. Two words come to mind when considering the Nordic Track Elite 3200: innovative and hard working. Those are considered strong words in the treadmill industry, but this system backs up every word.
One of the reasons treadmills are so popular is that you can obtain a workout as intense as you want. The Nordic Track Elite 3200 includes features that enable you to modify the intensity of your workout without interrupting your routine. Using Nordic Track's ZipSpeed and ZipIncline technology, changing your speed and incline settings involves using your finger to slide the control to your desired level in increments of 1mph and 1%, respectively.
As you modify your speed and incline level, the Nordic Track Elite 3200 automatically indicates how intense you're working out. The intensity ranges from blue (low intensity) to red (high intensity). This enables you to easily make adjustments to your intensity level to achieve your desired exercise goals. The training zone indicator located on the display also works to keep you on track with your fitness goals. Simply grasp the handlebars and the system displays your heart rate, information that is key to obtaining optimal fitness.
Flat television screens are becoming an increasingly common feature with high-end treadmills. The screen that comes with the Nordic Track Elite 3200 is 8.4", which is slightly larger than what most treadmills in its class offer. You have the choice of using earphones to listen to the television or the speakers that are included with the system. The television system is cable-ready.
Being able to keep track of your progress while you exercise is a must-have with treadmills. Whether you want to keep track of your miles for a day's session or over a specific period of time, the Nordic Track Elite 3200 has you covered. This treadmill has an odometer on the console that displays the distance you've traveled in your current workout. Nordic Tracks' MyMiles technology allows you to monitor the distance you've traveled over a specific period of time. You can reset both features, as you desire. Households with more than two people who will use the treadmill will have to find alternate ways to track progress since a maximum of two profiles can be set up for distance tracking.
Treadmills typically contain features for monitoring calories burned. The Nordic Track Elite 3200's Carb Counter component calculates the number of carbohydrates you burn during your workout and displays the number on the console.
As you would imagine, there are a selection of preset workout programs included with the Nordic Track Elite 3200. With 35 pre-set programs and the opportunity to customize up to four programs of your own, you should never get bored on this treadmill.
The Nordic Track Elite 3200 costs about $3000, a surprising amount considering the number of features, but definitely a price that makes it a contender in the mid-range treadmill market. Availability is the biggest problem with this treadmill.



---