Schwinn 430 Elliptical Trainer Review
The Schwinn 430 Elliptical Trainer is an ultimate cardiovascular workout machine and with its BioGlide motion technology, it is a perfect solution to your cardiovascular workout. The 18" stride, Biofit comfort footpads and handlebars make this machine like a more expensive health club unit.
Schwinn combined the elite standards of the Schwinn 418 and 438 models into the 430. With eight computer monitored resistance levels and heart rate monitoring at the hand grip, the Schwinn 430 Elliptical Trainer also comes with features like quick start, transport wheels for easy movement and a water bottle holder. Three feedback programs, recovery mode, results mode and body mass index (BMI) allow you to track your workout progress. Some users praise the forward as well as backward motion feature which they incorporated into their workout.
The BioGlide technology has made ease of use for any skill level, whether beginner or pro. With quick assembly and compact build (59" long by 26"wide by 68" tall), the Schwinn 430 is ideal for those with limited space or apartments owners. The wheels are beneficial for moving from a corner or across a room when not in use.
The Schwinn 430 Elliptical Trainer has a durable design that will accommodate people who weigh up to 300lbs. The fact that a cardiovascular workout machine does not produce much noise while in use is appealing to those who prefer a peaceful workout or to watch TV during their exercise sessions.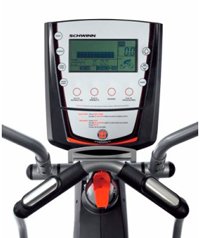 Schwinn provides a good warranty in the market, but labor has been reduced to 90 days on the 430 model. Apart from a few minor complaints, users are recommending the product and giving it excellent reviews. Schwinn customer service issues have been resolved promptly.
Again, the Schwinn 430 Elliptical
has a comfortable and compact design with a workout program that has been developed to help you reach your workout goals. Well built, good features and efficient customer service contributes to this product being a great elliptical trainer at an outstanding value.
Buying Schwinn
from the bowflex website might sound strange unless you are aware that Natilus owns both of them
---