Smooth 9.35 Treadmill
| | |
| --- | --- |
| Choosing a treadmill can be a difficult decision to make because the market is so competitive. Smooth Fitness makes quality treadmills, so attempting to choose just one of these can also be a challenge. If you are interested in a high-quality treadmill that you can grow with, the Smooth Fitness 9.35 treadmill is one you should consider. | |
Basic Features
The basic features of the Smooth Fitness are not basic to treadmills in general, but to other Smooth Fitness treadmills. There is the opportunity for nine different people to use the treadmill without having to input information every time. All the users have to do is input their age, target heart rate, and weight one time. Whenever they want to use the treadmill, all the users have to do is pull up their profile and start using the equipment.
The Smooth 935HR Treadmill
has six pre-set programs. The Quick-Start program is a custom program that you use to set manual settings. The other five pre-set programs are goal-oriented, which means that you can use them to accomplish specific fitness goals. As the name implies, the Killer Hills program challenges you through a series of incline settings. The other programs work similar in that you choose the program and the treadmill automatically cycles through a series of settings that you can modify, if you desire. In addition to incline training, the goal-oriented programs target weight loss, self-learning, and speed training.
Unique Features
The most unique feature of the Smooth Fitness 9.35 uses Motion Control® to enable you to manage the speed at which you move on the treadmill. By simply waving your hand you can determine how fast the treadmill moves. You can also wave your hand to stop the treadmill.
The Smooth Fitness 9.35 treadmill is designed with Whisper Weave® technology to provide an unusually quiet treadmill workout. You can also expect a smooth workout because the treadmill is built with Smooth Fitness' own hydra suspension system. This suspension system allows each user to determine how much cushioning they need during their workout.
Monitoring your heart rate is a snap with the Smooth Fitness 9.35. You strap a transmitter to your chest and the treadmill automatically adjusts settings to the heart rate setting you specify as your target.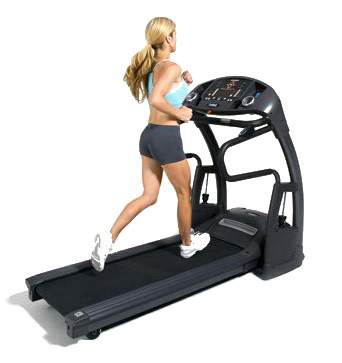 Customer Reviews
The Smooth Fitness 9.35 treadmill has more features than the other treadmills manufactured by Smooth Fitness, but receives high marks in the same areas: stability, quiet operation, and price (this treadmill sells for ~$2000). Users of this treadmill also enjoy the unique Motion Control feature.
About the Company
In addition to treadmills, Smooth Fitness also manufactures exercise bikes and elliptical trainers. The company has won numerous awards and is considered a top producer of quality exercise equipment that is also affordable.
Click through the following link to see the site for yourself. You can compare the models side by side if you still can't decide which model best suites your needs
Smooth 935HR Treadmill
---