Ab Rocket Abdominal Trainer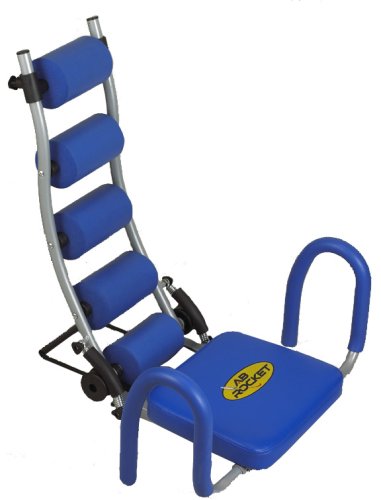 A lot of emphasis is placed on the aesthetic result associated with performing abdominal exercises. The true significance of such exercises is the ability to strengthen your core muscles. When your abdominal muscles are strong and well toned, you are at a lesser risk of developing back problems. The fitness equipment market is flooded with equipment designed to produce strong abdominal muscles. The good news is that many of the products are simple in design yet capable of producing effective results when coupled with healthy eating habits.
At first glance the Ab Rocket Abdominal Trainer looks like a lawn chair with short legs. It is actually a chair with four rolling cushions and arm rests. In its simplistic design, the equipment enables you to work the different areas of your abdominal muscles (upper, lower, middle, and obliques). All you need to do is position yourself in the seat and rock back and forth. The momentum of each movement is what strengthens your abdominal muscles.
The makers of the Ab Rocket Abdominal Trainer understand that there are different fitness levels and sizes. You can adjust the tension settings on the equipment according to your needs. There are also controls to allow you to feel comfortable according to your body size. The reason that people are more apt to buy equipment instead of opting for crunches and sit-ups is the potential damage to the head and neck. The Ab Rocket Abdominal Trainer is equipped with roller-like devices that support your neck and head. As an added bonus, the rollers also massage your back as you use the equipment.
The Ab Rocket is great if you have a limited amount of space. It weighs less than 20 pounds, so it shouldn't be difficult for most people to move. It also easily folds for storage under a bed or any other small space.
The Ab Rocket Abdominal Trainer is supposedly effective in strengthening abdominal muscles in as few as five minutes. Not sure how to accomplish this lofty goal? A DVD of short workouts accompanies the equipment. The workouts focus on abdominal exercises, heart rate training, and Pilates. You also receive a booklet with a meal plan and healthy recipes.
The Ab Rocket has received mixed reviews. The equipment receives praises for providing some visible effects and being adjustable. The naysayers think $100 is too much to pay for this system that only focuses on abdominal exercises.

We believe that this is a targeted piece of equipment that will work if all you want to do is work on your abs..
---