Adjustable Dumbbells Review
Adjustable dumbbells have been around for a while but recently have gained popularity through Bowflex. The old fashion method of using a traditional collar to hold the weights on the bar has been replaced by a fantasy method that is somewhat related to the tumblers of a lock and key. Instead of actually using a key you twist to select your desired weight and then go.
The real benefit to these adjustable dumbbells is how compact and organized this system is. You never have to move any weights around or search for the matching pairs on a rack or tree. Just twist the lever or knob and get to it. My favorite part is that there is no mess to clean up.
Bowflex Select Tech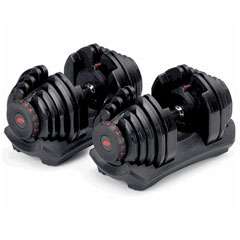 This is the one that has sparked all the hype. From the reviews I have read and my test in the store, this looks like a solid product. Initially there was
quality
concerned about all the non-metal parts on it but it feels good and durable for almost all users. It is very sturdy and intuitive to use with everything I would look for in a home product. Serious body builders might avoid this product do to the fixed weight limit but for everyone else see which model suits you best and enjoy...
As far as online purchasing goes the Bowflex website will ship direct and has financing options as well as a DVD that will guide you through the process of getting the most out of the product.
Bowflex SelectTech 552 Dumbbells
---