Audio Strider 990 Review
What's the best type of exercise? That depends on whom you ask. Some health professionals contend that exercise that is cardiac-intensive provides the most health benefits. Other experts believe that muscle-strengthening exercise is king. Both forms of exercise offer health benefits. A good plan is to attempt to include a workout routine that includes both forms of exercise. Many people get both forms of exercise by alternating them through the week. The development of cross trainers has made it easier for people to obtain a complete workout.
For the past 20 years, Nordic Track has been a major force in the home fitness industry. The company has tended to stay ahead of its competitors. The company initially focused their efforts on fitness skiers that people could use in their home. They now saturate the market with other home fitness equipment, including treadmills, steppers, and elliptical machines.
Nordic Track is the maker of one of the top elliptical cross-training machines, the Audio Strider 990. One of the most acclaimed features of this machine is the variable incline. This enables you to exercise a variety of your leg muscles. Treadmills are known for having changeable inclines, but the Audio Strider is the only elliptical that offers this feature among home fitness elliptical machines.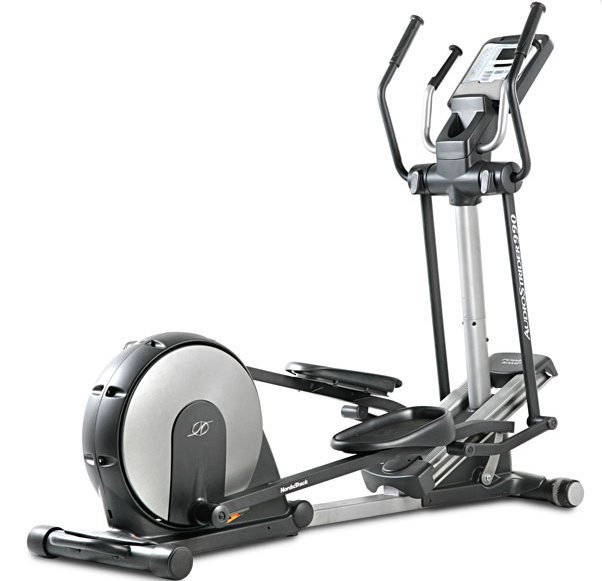 As you would expect, the Audio Strider 990 includes features that have become standard with elliptical machines. You can adjust the incline to work different muscle groups, track your progress on a high-resolution display, modify your power resistance, and monitor your heart rate. There is also a fan whose airflow speed you can adjust.
In addition to standard elliptical features, the Audio Strider 990 is equipped with options to make the user's experience more enjoyable and to simulate working out with a trainer. Have an iPod or other MP3 player? While it can't be classified as high tech, the MP3 compatibility feature enables users to connect their MP3 player and listen to their choice of music through a speaker system that is integrated into the machine.
The speaker system is also used to emit motivational suggestions to improve your workout. This feature is part of the iFIT Technology. This integrated technology involves the user inserting a program card that consists of 24 workouts that are performed within eight weeks. You basically choose your fitness level and goals and the programs help get you there. The Audio Strider 990 comes with 20 workouts that are designed by personal trainers. Included in the workout programs for aerobic conditioning, weight management, and performance goals.
The Audio Strider 990 is referred to as a space saver, however, this title is only applicable to it being easy to fold up and stored in a corner or other small space. When this elliptical is unfolded it takes up 24 inches of space. This elliptical can support a maximum of 240 pounds.
The rave reviews by customers are not the only positive feedback that the Nordic Track Audio Strider 990 has receives. It also received a coveted Best Buy rating by Consumer Reports, a reputable advocate's organization. Consumer Reports gave the elliptical a high rating because the machine is well built, provides more than average fitness range, and is easy to use. At a price just below $1,000, the Audio Strider 990 is considered a total "gem" in the home fitness equipment market.