Balance Ball Chair Review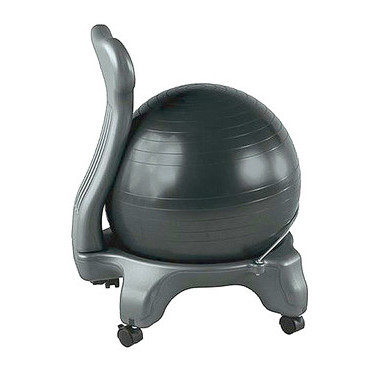 As its name implies, home fitness is marketed to people who want to exercise in the privacy of their own homes. Balance Ball Chair
gives the title new meaning. People are trading in their desk chairs for this new and innovative fitness equipment. The significant advancements in technology have changed the way we work so that more and more people are spending time at a computer. What we do has become more streamlined, but being seated at a desk can cause back and other problems.
Back and spinal improvement was the main goal behind the design of the Balance Ball Chair, but it also functions to offer users a beneficial workout routine to build strength. A desktop guide ships with the chair and includes 15 exercises that you can perform. The equipment consists of four key components: chair, balance ball, casters, and support bar. The balance ball sits in the chair seat and is where you perform exercises. The balance ball is standard size (about 52 centimeters) and can be used to perform exercises on or of the chair. The balance ball ships flat, so you will need to use an air pump (included) to inflate it before use. The chair is almost two feet tall and comes with both rolling and non-rolling casters. You can lock the casters when you don't want the chair to move. The support bar stabilizes the ball, and adjusts to support your needs.
There are good reports from users of the Balance Ball Chair. People are generally satisfied with the improvement in their back and appreciate that they can use it instead of regular desk chairs at home and work. What people are dissatisfied about is that the chair is not easily adjustable to accommodate varying sizes. The balance ball inflates to nearly two feet and the base of the chair is six inches from the ground. The equipment is not designed for people outside of 5' and 5'11" tall, but can support the standard 300 pounds.
Gaiam is the company that manufactures the Balance Ball Chair. The company is one of the first to develop and market products that are considered environmentally friendly. In addition to fitness equipment, the company also markets an organic clothing line, as well as wellness-related and home products that are inline with their eco-friendly methodology.
Final Words: While the Balance Ball Chair
is only suitable for people within a specific height range, it is affordable equipment that has valuable medical and wellness related benefits. Gaiam worked with a chiropractor to develop the product, and users have reported significant improvements in their back. For this reason alone EER gives the balancing equipment a thumbs-up and hopes the company considers in the future making it suitable for more people.