Bayou Total Trainer Pilates Pro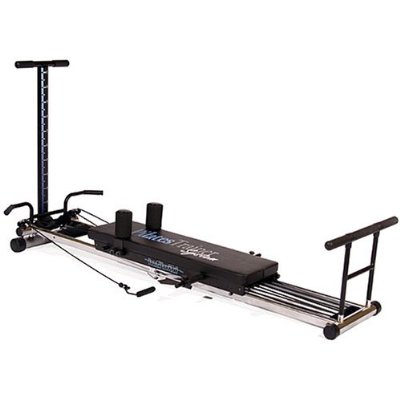 If you're like most people that workout at home, your ideal fitness equipment is one single machine that allows you to perform a variety of exercises. The main reason that people want this type of machine is to accommodate varying needs of people in the home. Men tend to perform strength-training exercises that increase muscle mass, while women tend to want to strengthen their muscles without bulking up. The Bayou Total Trainer Pilates Pro is a machine that is marketed to fulfill both needs.
The Bayou Total Trainer Pilates Pro can easily be considered two machines in one. The machine includes accessories that enable you to perform Pilates-style exercises that aim to develop core strength and flexibility. There are also accessories included with the equipment that provide resistance training comparable to working out on a weight machine.
The accessories to perform Pilates-style workouts include a toe bar, dual leg cuffs, shoulder pads, and resistance bands. When you want to add resistance to your workout, the strength-training accessories are plentiful. The sit-up cuff strap and advanced pro abdominal crunch strap are two accessories you can use to strengthen and tighten your abdominal muscles. You can work your upper body using the bicep curl press bar and/or pull-up push-up bar. The squat board and dual cuffs are ideal for lower-body exercises. There are 21 resistance levels from which to choose when using the Bayou Total Trainer Pilates Pro. You can also vary your resistance with free weights, which you supply, using the power bar.
There are several key extras worth noting about the Bayou total Trainer Pilates Pro. The system ships fully assembled, which is seldom the case with home fitness equipment. The standard weight limit for most home fitness equipment is about 300 pounds. The Bayou Total Trainer Pilates Pro supports a maximum of 400 pounds. The machine can also support individuals as tall as 6'7". To help with the many different exercise that you can perform using this machine, an instructional manual and four program cards ship with the system. The system also ships with a Pilates video.
Users of the Bayou Total Trainer Pilates Pro give it rave reviews. The features that users like the most about this equipment are the price and accessories. They claim that most systems with comparable features cost upwards of $1500. This machine is just shy of $500. The number f accessories is a plus for many users because it enables them to do a lot of different exercises, which adds value to their work routine and prevents boredom. On the negative side, some users are disappointed that although the equipment has 21 resistance levels, it doesn't appear to be enough for bench press or squats.
Final Words: There are many positives associated with the Bayou Total Trainer Pilates Pro. EER gives it two thumbs up because it offers individuals who exercise at home a system that fulfills multiple fitness goals at an affordable price.