Beurer PM50 Review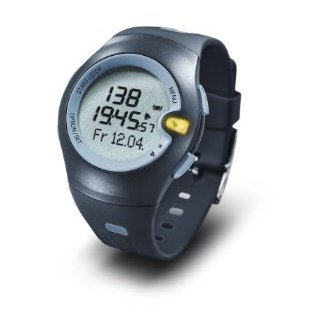 There is much debate in the fitness industry about the best types of exercise to achieve a beneficial level of fitness. What is agreed upon is that everyone needs to exercise and they need to do so to a point that is beneficial for them. The best way to ensure that you are exercising within a range that is both optimal and safe is for you to workout while wearing a heart rate monitor. Many manufacturers of fitness equipment now add heart rate monitors to their product offerings. Beurer is not a household name, but the company is an easy contender in the heart rate monitor industry. This company was started in the mid 1900, but began selling wellness-related products in the late 1980s. They now offer more than 10 different heart rate monitors.
The makers of the Beurer PM50 designed the heart rate monitor to function like a coach, helping and motivating you to stay on track for fitness. The first issue of business with any heart rate monitor is to set your training zone. With the Beurer PM50 you have the choice of inputting the numbers and selecting any one of the five levels or allowing the system to set your range for you automatically. If you use the Fitness Test feature, the system will automatically calculate your training range and overwrite any existing numbers. Your healthy training range changes and this handy feature is great for ensuring that you are working at your ideal level.
On the Beurer PM50 you will find all the basic settings that are a must-have for any heart rate monitor. You can enter your weight, age, and gender-all the components the system needs to assess you fitness level. You can also set the date and time. If you need an alarm, there is a setting available for you to do so. In addition to basic input settings, the Beurer PM50 includes essential output readings, including fat and caloric consumption. Need a stopwatch function? It has that too.
The Beurer PM50 looks like a watch and works to assist people with a variety of fitness goals. Do you perform a variety of exercises? You can use the Beurer PM50 with just about any type of exercise. It is waterproof, so it is a good choice if you swim or participate in rowing sports. Cyclists can also use the heart rate monitor. All you will need to do in this case is attach the mounting bracket (bike clip) to your bicycle and go.
Being able to view the settings on the display while you exercise is a common issue that people have with heart rate monitors. You need to be able to read the display, preferably without disturbing your workout. The manufacturers of the Beurer PM50 made sure this wasn't a problem. The only time you have to look at the monitor is if you want to change a setting. As long as you have set your desired fitness range, the Beurer PM50 will alert you with an audible alert that you are out of range. In addition to not disturbing your workout, this also allows you to do other activities. For example, if you watch television while you workout, you don't have to keep looking at the heart rate monitor to see if you are exercising within your range. If you workout with headphones, the background on the Beurer PM50 will change to a different color to indicate you are out of your training zone.
The Beurer PM50 is the mid-level heart rate monitor and most people who choose a heart rate monitor from Beurer choose this product because it offers features beyond the basics and a few offered on advanced models. Users have not voiced any major concerns with this monitor. Users relay most often that this heart rate monitor is flexible with an attractive price (about $70).
The Final Word: EER considers the Beurer PM50 heart rate monitor to be a valuable fitness tool and give it a thumbs up. We are most impressed by it being useful for anyone of any fitness level. We believe users who are just starting to get fit will gain the most benefit, but athletic users can also boost their fitness training with this heart rate monitor.