BOSU Balance Trainer Review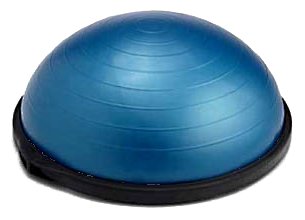 If there were such a thing as the "perfect" workout, it would have to be one that works all the major muscle groups and keeps your heart fit. Engaging in exercises that accomplish these goals can help you to achieve total fitness. The gym is no longer the only option for full-body workouts. There are plenty of home fitness exercise machines on the market, but only a limited number of them provide a balanced workout. The BOSU (Both Sides Utilized) Balance Trainer is a equipment that joins the rank of fitness equipment that can help people achieve total fitness at home.
David Weck invented the BOSU Balance Trainer out of a need to remedy his chronic back pain. While many physical therapists use and recommend the equipment in their practice, the BOSU Balance Trainer has become more commonly used for fitness purposes. Professional athletes as well as people with varying levels of fitness use the BOSU Balance Trainer.
The BOSU Balance Trainer is a flexible device that you can use to perform a variety of exercises. The equipment is basically half of an exercise ball. Despite its simplistic design, this device can offer a challenging workout. When the device is positioned so that the dome-shaped portion is face up, you can perform exercises that focus on flexibility, strength training, and cardiovascular efficiency. When the dome side is flipped over you can switch your focus to upper-body training exercises, such as push ups. These are only examples. The BOSU Balance Trainer is exercise equipment that welcomes creativity.
As a single piece of equipment, the BOSU Sport Balance Trainer is not all that you need for a complete body workout. However, you can take your workout on the BOSU Balance Trainer up a level by using the 3D Body Sculpting System. This equipment is the BOSU Balance Trainer with a platform and balance bar. These additional components can enhance your workout to include more aerobic exercises. The 3D Body Sculpting System ships with the BOSU Balance Trainer workout DVDs to help you maximize the key benefits (stability and coordination, cardio, and strength training), resistance bands, and a nutritional guide.
The majority of reviews for the BOSU Balance Trainer are positive. The most appealing features of the equipment are its adaptability, simplicity, and price (it retails for about $150). A handful of users have complained that ankle-rollover can easily occur while working out on the dome-side of this equipment. The BOSU Balance Trainer was designed to help people with injuries, and many physical therapists recommend it for rehabilitation. People who lack coordination or who are recovering from an injury should take it slow when first using the BOSU Balance Trainer and follow the instructions that ship with the equipment. Also, opting for the BOSU Balance Trainer that includes a platform and balance bar is a good idea for people who need extra security when using the equipment. We believe that the BOSU Balance Trainer stands up to the test.
---