Bowflex 7 Series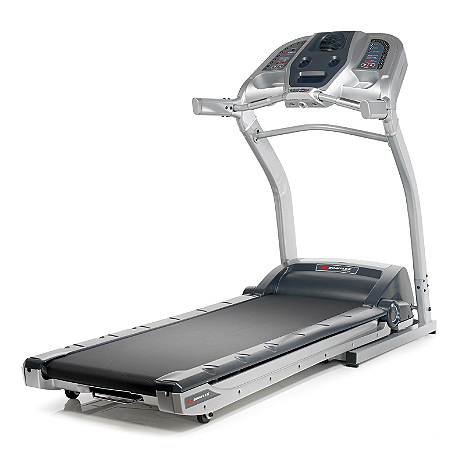 The Bowflex 7 Series treadmill is a powerful and sturdy machine with a 3.0 hp motor. Weighing in at 298 lbs. makes this treadmill among the heaviest compared to other machines of similar price range. This treadmill is a product of Bowflex which is famous for its' variety of gym products and treadmills in the market.
The 7 series treadmill has a skylight backlit LCD computer window, built in 3-speed fan, bottle holders (2), up to a 12% incline grade and a speed range of .05-11 miles per hour.
Due to its' weight, it is advisable that you consider the perfect placement for the Bowflex series 7 treadmill. Consumers have reported that they find it difficult to move or re-adjust when folded. In its' folded position the machine measures: 41"X35"X65.5"h.
From features to performance, the 7 Series has it all. Suitable for both jogging and walking, it has a generous 20 by 60 inch belt surface which features the Bowflex unique Strike Zone cushioning system for ease and stability during your exercise experience. The fifteen workout programs by the Bowflex treadmill are: manual, cardio, running, fat burn, speed interval jogger, hill intervals, 5K run with 12 intervals, heart strength/recovery test, calorie goal, distance goal and two other custom programs. Additional features include: fat burn heart rate calculation, cardio heart rate calculation, body mass index (BMI) and a grip/telemetric heart rate monitor to measure your fitness level. The Bowflex 7 series treadmill will offer you complete satisfaction in terms of functions and durability.

A plus point is that the 7 Series treadmill will handle those who weigh up to 300 lbs. There have been a few customer service issues with Bowflex regarding delayed delivery times and longer than average phone hold times, but most customers report that any customer service issues were out weighted by their satisfaction with the product. Additionally, customers have given great response to the cushioned deck for protection of the knees.
Overall the Bowflex 7 Series
has attracted people with its display, look, features and unique design. With a warranty covering 15 years for frame, 10 years for motor, 2 years for parts and 1 year of labor, the Bowflex 7 series treadmill is something to look forward to.
---