Concept2 Model D Review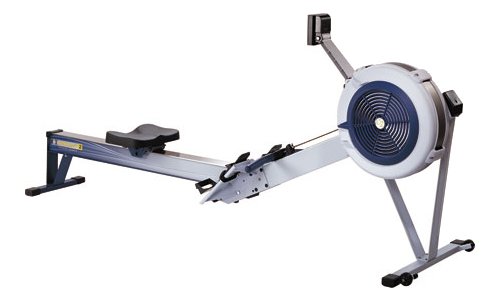 An indoor rowing machine can offer a full-body workout. You position yourself on a seat with your feet in footrests, and pull on the handle with both hands to cause the sliding mechanism to move your body back and forth; your legs naturally fold and extend. The motion is simple, but just a single stroke or motion works your arms, legs, back, chest, and abdominal muscles. In addition to allowing you to work your upper and lower muscles simultaneously, rowing machines also provide a low-impact workout that is beneficial for people interested in building strength slowly, as when rehabilitating muscles. The company Concept2, Inc. manufacturers indoor rowing machines for both individuals and commercial enterprises.
The indoor rowing machines that Concept2 manufactures are designed to meet the needs of the novice, professional athletes, and everyone else in between. The company has been in the business of manufacturing rowing products since the mid 1970s.
The power behind any workout you perform on a rowing machine depends on the amount of resistance. The Concept2 Model D Rowing machine includes an adjustable damper setting that you control from the flywheel. The maximum setting of 10 results in the greatest amount of air flowing through the flywheel, a concept referred to as "air resistance." You can also control the amount of resistance by pulling more or less on the handle.
When you're seated on the Concept2 Rowing Machine, the Performance Monitor (PM) is directly in front of you tracking your calories burned, distance, speed, and pace. The system includes a heart rate monitoring feature, but you will need to purchase a Polar receiver that is not included with the machine. The PM also includes a selection of performance options, including access to online challenges. There is a USB interface on the PM that enables you to save your workout results and transfer them to a Mac or PC computer system. The D model includes the PM3, but you can choose to upgrade to the PM4 model. The PM4 model includes a chest heart rate monitor, additional memory, a battery pack that is rechargeable, and the ability to race with other rowing machines (wireless or wired) without the use of a computer system.
The Concept2 Model D Rowing Machine consists of several performance enhancing extras. Depending on the length of your workout, the repetitive motion can place stress on your hands. This machine has ergonomic handles to prevent stress. The footrests are adjustable and flex with every movement of your feet. Noise can be a huge distraction during a workout. Rowing machines can be noisy. The Concept2 Model D Rowing Machine features a flywheel that is designed to reduce noise. The flywheel's design also facilitates smooth and even motion. All rowing machines manufactured by Concept2 can be connected via slides to mimic a team-racing environment. How you connect the machines depends on the type of rowing machine model and PM type.
The Concept2 Rowing Machine requires about nine feet in length and four inches wide when in use. If you need to move the machine to another location or store it between uses, it breaks down into two sections. The machine weighs nearly 60 pounds, but there are caster wheels to make transporting easier. The seat is 14 inches high and the machine accommodates a length of more than seven feet. The machine can hold a maximum of 500 pounds.
Concept2 manufactures two indoors rowing machines: model D and model E. There are a few differences in the two machines. Model E has a seat that is six inches taller than Model D and its components are made of stronger materials to provide extra durability for the taller structure. Model E costs $1260 whereas model D costs closer to $1000.
Final Words: We give the Concept2 Model D Rowing Machine a thumbs-up. The machine is suitable for a variety of workout lifestyles, offers an effective workout, and is designed to last.
---