HealthRider Treadmills Reviewed
Healthrider treadmills are one of many brands belonging to the World's largest manufacturer of Fitness equipment - Icon Health and Fitness. If you've read any of our other treadmill reviews you'll know that brands like Weider, Reebok, Weslo and Nordic Track are all subsidiaries of Icon.
As a company they are well known for their original innovation from the early nineties, also called the Health Rider. The success and quality of that unusual but effective machine lead to the development of other pieces of exercise equipment, including treadmills...
Ranging from around $600 to $1200 these treadmills fall into the low to mid price range category. We'll have a look at some specific treadmills and compare their specifications with other brands priced similarly.
A good indication of the overall quality of a treadmill is the warranty. The most important component to look at is the motor. While power (HP) is important not all 2.5HP motors for example, are created equal. The warranty on Healthrider treadmills is average. As a guide expect around 3 years on the motor on higher priced a treadmill. The lowest priced treadmill may have as little as 90 days.
As a comparison, Smooth treadmills lead the industry for warranties in the mid price range with at least 5 years on the motor and usually 10 years. Some of very low priced treadmills by the likes of Proform and Weslo only have a 90 day warranty so most Healthrider treadmills fall somewhere in the middle...
Healthrider Treadmills to Consider
---
HealthRider Pro H500i Treadmill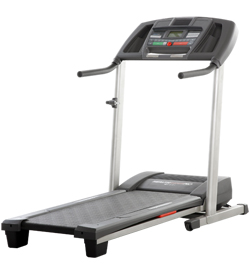 A 1.75HP motor and larger deck bumps the cost up considerably over the lower priced Healthrider H450i. The large price difference seems disproportionate considering the warranty is still poor.
Motor Size: 1.75 continuous duty
Running Surface: 50in x 19in
Maximum Speed: 10mph
Maximum Incline: 10%
Heart Rate: Yes
Folding: Yes


---
HealthRider T600i Treadmill
Surprisingly this treadmill has a smaller motor than the H500i. However, it is commercial grade which means you should get a lot more wear and tear out of it. Even though horsepower is the measure used by most people to judge the standard of treadmill motors, it's not always accurate.
Motor Size:
1.5 continuous duty
Running Surface:
50in x 19in
Maximum Speed:
10mph
Maximum Incline:
10%
Heart Rate:
Yes
Folding:
Yes
---
HealthRider R60 SoftStrider Treadmill
At around $1300 this is one of Healthrider's most expensive home treadmills. It boasts ten built in workout programs, iFit, pulse grip and cushioned running deck. The 2.0HP commercial grade motor sustains an impressive top speed of 12mph. Despite the impressive numbers Healthrider still haven't improved the warranty. If you want to buy a Healthrider stick to the T600i.
Motor Size: 2.0 continuous duty
Running Surface: 60in x 20in
Maximum Speed: 12mph
Maximum Incline: 10%
Heart Rate: Yes
Folding: Yes


---
Being in the low-mid price bracket it's well worth comparing Heathrider to Smooth treadmills. Prices and specifications on both product ranges are similar but Smooth treadmills feature at the top of many independent reviews and ratings charts. Just as importantly their warranties are much more solid with ten years on most motors... Compare Healthrider treadmills to Smooth's range with our full review...