Horizon Evolve SG Review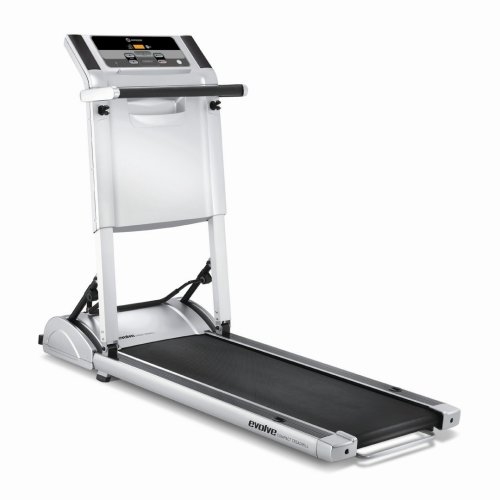 The treadmill continues to be a staple home fitness machine. One reason the treadmill remains so popular is probably related to how easy it is to start using. In most cases, you can simply jump on and start walking, jogging, or running. With so much popularity, treadmills are in abundance. Nowadays, manufacturers of treadmills compete by offering products that have a lot of bells and whistles. For a majority of consumers, a treadmill that provides basic functions and a reasonable price is sufficient. The Horizon Evolve SG fits in the "basic" category of treadmills.
The Horizon Evolve SG includes features common to most treadmills and key for a good workout. There are two programs: manual and weight loss. The manual setting enables you to select settings that are suitable for your fitness level. You can monitor your workout progress by viewing the LCD screen that features an orange and black backlight. The screen displays the total number of calories burned, the amount of time that has elapsed during your workout, the distance you've walked or ran, as well as your current speed. With a belt area of 17" x 45" the Horizon Evolve SG is considered suitable for both walkers and runners. The belt speed ranges from 1 to 6. The weight limit for the equipment is 250 pounds, which is about average for treadmills of its same size.
There are a few extras included with the Horizon Evolve SG. There is a button for you to place you thumb to check your heart rate. If you like to listen to music while you walk or run, you can connect an MP3 or CD player using the audio adapter that ships with the equipment. The equipment includes speakers in case you want to listen to your music without a headset. If you prefer to read, there is a reading rack that can hold your reading material.
If you don't have a lot of space to dedicate to exercise equipment, the Horizon Evolve SG may be the perfect fit. While most are still heavy, most treadmills nowadays fold up and have wheels for easy transport and storage. The Horizon Evolve SG weighs just under 100 pounds and easily folds to 10 inches by 59 inches to easily fit under a bed or in a closet.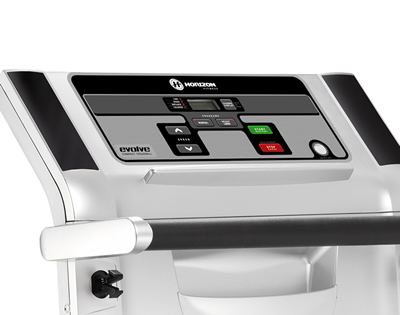 The only area where the Horizon Evolve SG scores low is with its continuous horsepower (CHP). CHP refers to how much power a treadmill can dole out for a long period of time. The more power a treadmill can provide, the better your workout. The Horizon Evolve SG has a CHP of 1.5 while the average treadmill has a CHP of 2.5.
Horizon Fitness, the company that manufactures the Horizon Evolve SG, may not be a well-known name in the fitness industry. However, the company is affiliated with a fitness equipment manufacturer that is in the top five of fitness equipment manufacturers. In addition to treadmills, Horizon Fitness manufacturers elliptical trainers and exercise bikes.
Users of the Horizon Evolve SG acknowledge that the machine provides basic functions, but appreciate that it is durable, dependable, and provides a good workout. Users also like the compact design of the equipment, which enables it to be positioned in a small space. Users also like that the equipment is priced under $1000 (it's about $800).
EER gives the Horizon Evolve SG a thumbs up. We wish that the machine offered more programs and was more comparable to other treadmills at its level in the area of horsepower. However, we like that the equipment is compact, reasonably price, and proposes to be a dependable workout companion.