Kettler Coach Rower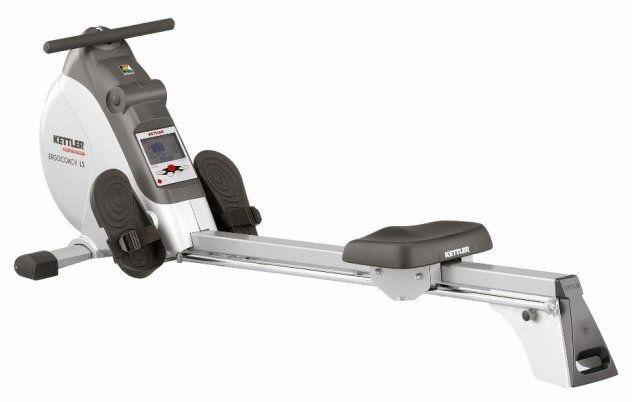 Rowing machines are quickly becoming popular in-home exercise machines and rightly so. These machines are typically easy to use and provide a full-body workout. With their growing popularity, there are a growing number of them on the market. The Kettler Coach Rower is a rowing machine contender. Kettler is not a household name, but has been in the business of manufacturing fitness equipment for 50 years. The company's home base is in Germany, but they have distribution partners in various countries.
The most distinctive feature of the Kettler Coach Rower
is that you can do more than rowing. The machine includes a magnetic flywheel that enables you to choose from 10 variable resistance levels and easily adjust your resistance setting in a continuous motion. Most of the top rowing machines are designed with air resistance. A magnetic flywheel provides a smoother motion and quiet operation. With the variable resistance system and included 19x12 padded board, you can perform as many as 16 different head-toe muscle-building exercises. Simply determine your resistance level and position yourself on the padded board according to the muscle group you want to train.
The Kettler Coach Rower includes a heart rate monitor that is wireless and that easily straps around your chest and allows you to keep track of your heart rate while you exercise. Another unique feature of the Kettler Coach Rower is the system's ability to measure your performance after you complete a workout. How fast your heart rate returns to normal after you exercise is a key indicator of your level of fitness. The Kettler Coach Rower gives you a rating that is between 1 and 6.
The Kettler Coach Rower includes several key features that are comparable to residential rowing machines. While you're working out on the machine, you can gauge your performance on the equipment's oversized LCD readout display. There are the typical readouts for speed, total strokes and miles, distance, and pulse rate. You can also keep an eye on the room temperature and the amount of energy that you are using.
The wheels on the Kettler Coach Rower are a less significant feature, but make a difference when you want to easily and quickly store the equipment.
The majority of reviews of the Kettler Coach Rower are encouraging. Overall, users love its versatility, quiet operation, and sturdiness. On the downside, some users are disappointed at not being to save their settings.
Final Words: EER gives the Kettler Coach Rower
a thumbs up. We give the fitness equipment high marks for offering unique features that provide both aerobic and anaerobic benefits. Another great plus of the equipment is the under $1000 price tag
---