Lifespan EL1000 Elliptical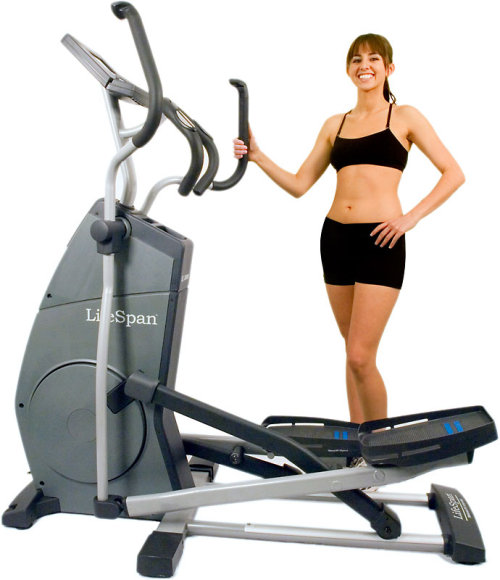 Elliptical trainers give the exerciser the benefit of walking or jogging without the impact or knee discomfort of using a treadmill. This model features an 18-inch stride length and 2.5-inch pedal spacing to support the natural walking motion of the average person. Handles increase the workout intensity by allowing the upper body to be engaged as well. This is a total body workout with the core being engaged while exercising to maintain the proper balance on the machine.
The EL 1000 Natural FIT Elliptical Trainer features a multicolor LCD workout monitor that shows information for time, calorie, distance, speed and resistance to help keep the user motivated and inspired. There are several preset programs for this elliptical machine which include weight management, heart health, interval programs, hills and heart rate programs. In addition to these preset programs, there are options for a more customized workout including customized time settings, My Zone interval and My Zone constant programs.
My Zone interval is one of the most challenging workouts on the machine with high and low intensity varied throughout the entire workout time. The My Zone constant program keeps your heart rate at one constant level by automatically adjusting the resistance to keep you at your selected heart rate. In total there are eight preset programs, each with three different intensity levels.
The EL 1000 Natural FIT Elliptical Trainer is smaller than commercial models, making it perfect for home use and it features a lifetime warranty on the frame as well as brake life. There is an additional three-year warranty on parts and a three-year warranty on labor. There is a three-hundred-pound weight limit for this elliptical trainer and it measures 52 x 61 x 28. Front mounted wheels on the unit allow it to be easily moved from room to room for convenience.
Average user ratings for the Natural FIT Elliptical Trainer are four out of five stars and all comments are very positive. As a regular part of a regular workout routine, the elliptical training machine is much lower impact than other machines or exercises and may allow those with stiff and sore knees to work out for longer periods of time without the pain and discomfort of other types.
The bottom line for the Natural FIT Elliptical Trainer: Elliptical trainers may be the best choice for those who suffer from knee or joint pain and discomfort. This machine mimics the natural walking motion of the average person without the stress of pounding pavement or walking, running or jogging on a treadmill. The attached handles increase the workout by including the upper body. Monitors in the handle allow the user to keep track of their progress throughout the workout.