Mini Exercise Cycle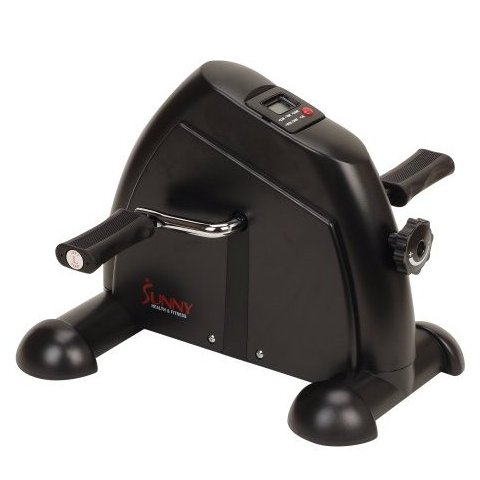 For all of the people who keep saying they do not have the time to workout, or that they cannot stand up to exercise, this is the perfect solution. The Sunny Health and Fitness mini exercise cycle can be used in a seated or reclined position, can fit under a desk and be used while you are surfing the web at home or at work. It can be used for both upper and lower body workouts. And, it does all of this in a rather compact size.
Size Specifications

The Mini Exercise Cycle measures 15.8x 14.5x 13 inches. It weighs in at a mere fourteen pounds, which is comparable to some laptop computers once they are in their case. It is light and small enough to take with you back and forth, to work, on vacation or anywhere you need to go. It is also more affordable than other exercise machines, so buying two is an option as well.
Additional Features

The resistance of the Mini Exercise Cycle is controlled with a dial- you can set it for a light, medium or vigorous workout at your own discretion. A built-in computer tells you your distance, time, calories burned, reps and total reps with a LCD display read out so that you can not only keep track of your progress but work toward setting and beating goals as you build up your fitness level.
Premise of the Machine

The Mini Exercise Cycle
does not claim to be anything fancy or special- you pedal it with your feet or you pedal it with your hands - that is it! It is simple, straightforward and easy to manage. You can use it on the floor while you sit at your desk or you can use it from a reclined position if you need to. You can place the Mini Exercise Cycle on the table top and use it to work your arms and upper body as well.
Pricing and Special Offers

The price of the Mini Exercise Cycle is around sixty dollars and at this time there is an offer of free shipping through Amazon.com.
Customer Reviews and Opinions

There were nothing, but positive reviews listed for this machine and it was rated with a 4.5 stars on the site. Most users agreed that it was a nice way to work out especially for those who did not have the time to fit in a full routine or for those who had limitations of any kind. The only negatives were about the amount of resistance in the machine, however most still felt they got an adequate workout from the machine and felt like they would use it longer, perhaps long enough to counteract the lack of solid resistance.
Bottom Line

The Fitness Mini Exercise Cycle Portable Bike is an excellent machine for those who are so crunched for time that they cannot possibly fit in any other exercise. They can stow this mini cycle under their desk and pedal way while they are doing work on their computer.
It is also beneficial to those who cannot stand up to exercise because of balance or strength issues.
It is also a good way to work the arms, especially for those who may not have grip strength to pick up weights.