NordicTrack S3000 Review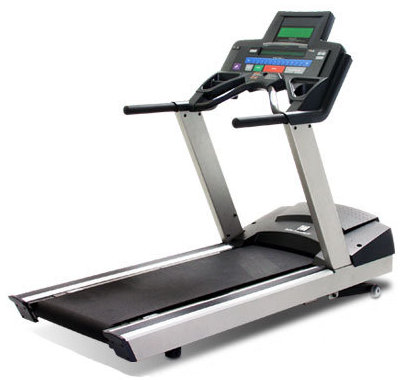 Having access to top-notch equipment is one of the main reasons that people prefer to work out in a gym rather than at home. It's unfortunate, but home fitness equipment has gotten a bad wrap because of some early home fitness products whose durability and power were significantly below that of commercial products.
Of course, this has all changed. NordicTrack is one home fitness equipment designer that takes the home market seriously. The company is most famous for its skier machines of the late 1980s. Today, its line of products include just about any type of fitness equipment you can think of, including exercise bikes, stair steppers, treadmills, and even jogging strollers. The company offers a line of six upscale treadmills that compare to those designed to withstand the constant use and varied features required by fitness gyms.
Within the NordicTrack treadmill product line, the NordicTrack S 3000 falls midway. However, this treadmill is a powerhouse of features. In addition to standard treadmill features, such as a heart rate monitor, this treadmill also includes unique features for setting speed and inclines quickly and on the fly. With ZipIncline™ you can easily slide the control to an amount between 0 and 12%. You use ZipSpeed™ technology to quickly set your speed between 0 and 12 MPH.
Whether you want a high calorie burning workout, a long run (marathon or 10K), a challenging workout in your target zone, or a workout you design yourself, the NordicTrack S 3000 has a workout for you. Experts who are certified as personal trainers designed 25 of the 39 preset workout programs available with this treadmill.
The following are the other exceptional features of the NordicTrack S 3000:
5.0 horsepower (2.0 is average for treadmills)
A treadbelt that measures 20"x 60" (the maximum for most treadmills is 16"x45")
DuraSoft™ Cushioning that offers extra protection for your joints
Support for up to 400 pounds
As you can see from the aforementioned features, the quality of the NordicTrack S 3000 is in line with commercial treadmills, however, it does not have the steep price tag of commercial equipment. With a price tag just under $3,000, this treadmill is less expensive than its counterparts.
One of the most enjoyable features of the NordicTrack S 3000 is the quiet that you experience during your workout. Fans of treadmills have become accustomed to squeaks, rattles, and the loud sound of the motor that is typically associated with using a treadmill. The NordicTrack S 3000 is a pleasant surprise in its smooth and quiet operation. The commercial-grade treadbelt deserves the credit for providing users of this treadmill with an unusually quiet exercise routine.
The fact that the heavy-duty construction of the NordicTrack S 3000 compares to commercial treadmills should be a comfort to prospective users. It's no wonder that Runner's World magazine tested and reported that the NordicTrack S 3000 received a "perfect score from testers for the stability ranking."
Considering its extra features, commercial-like quality, and price, the NordicTrack® S 3000 Institutional Treadmill is a good buy for anyone interested in a treadmill that will stick around for the long haul.

---