Octane Fitness Q37e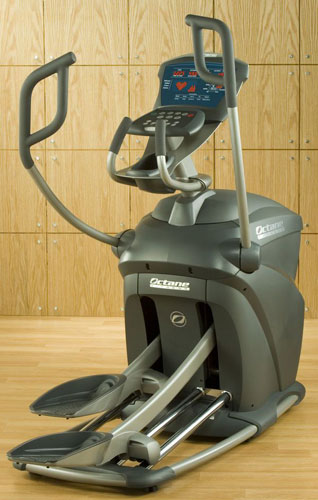 With a name like Octane Fitness Q37e, you can't help but expect a lot from this machine. This elliptical holds true to its name and boasts many features. The Converging Path handlebars are its most innovative feature. What this fancy name means is that the handlebars mimic the natural way that your arms move swing when you are walking. The main benefit that the unparallel handlebars offer is fluid arm motion that doesn't place undue stress on your elbows, wrists, and shoulders. Since your range of motion is extended you are able to work more muscles and obtain a more effective workout for your upper body. Another comfort feature of the Octane Fitness Q37e is the 1.8" distance between the pedals; a distinctive feature among elliptical machines.
In addition to mechanical features, the Octane Fitness Q37e also offers a significant number of innovative electronic features. X-Mode, HeartLogic Intelligence, MOM Mode, and GluteKicker are all electronic options at your fingertips that can enhance your workout. They have preset options from which to choose, but you can also customize them for your workout.
The Q37e really shines in the workout specifications that it offers. The machine includes five preset programs for resistance and five programs for heart rate efficiency. While working out on this equipment you can monitor your progress, such as your time, distance, speed, target heart rate, and calories.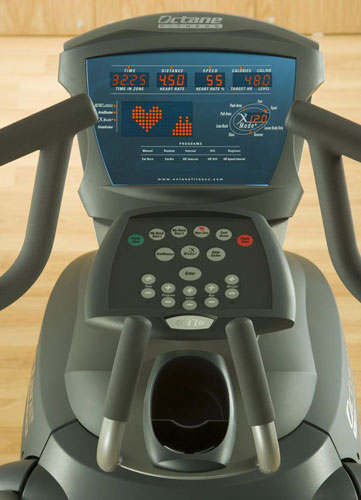 Users of the Octane Fitness Q37e have more positive than negative remarks about this machine. On the positive side, users note that the equipment is sturdy, offers a smooth stride, and includes motivating programs. While users acknowledge the price of the Octane Fitness Q27e as a negative feature, this is a comment that users have for this level of fitness equipment in general. The Q37e is the midlevel elliptical in the Octane Q37 series and is priced at about $3,000. The oddity in the pricing of this equipment is that it is $100 cheaper than the higher-end machine, but the only difference in the two is that the Q37e doesn't include contact heart rate. So, if you purchased the machine you could easily say that you have a high-end machine.
The company has existed in the fitness industry for less than 10 years, but the two founders collectively have more than 30 years of experience in the industry. The Q37e is just one of their products. They offer 10 seated and standing elliptical machines for the home, and five similar models designed for commercial use.
Here is one of our readers reviews of his Q37.