Pilates Power Gym Review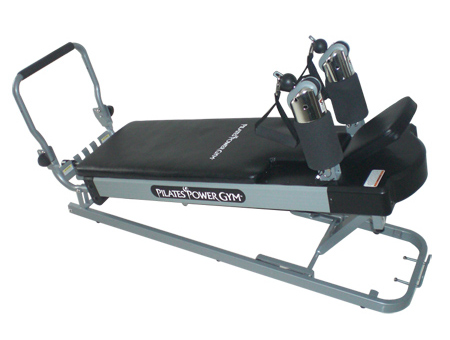 Pilates is a form of exercise that is aims to tune the complete body. Unlike most gym equipment, machines that are developed for performing Pilates routines are not intended for "bulking up" the muscles. Instead, the equipment is designed to create muscles that are long and lean. The equipment is also beneficial for enhancing the posture. There are many machines available on the market for Pilates. The Pilates Power Gym is a machine that can enable you to obtain all the benefits from a typical Pilates workout.
When you first look at the Pilates Power Gym, you might think that it looks very similar to a rowing machine. It consists of a carbon-steel frame that is approximately 56 inches in length, and equipped with tension cords and foot straps. The main difference in the two types of machines is that Pilates is a form of exercise that builds strength with slow, deliberate movements. To that end, you cannot adjust the speed in which you exercise on the Pilates Power Gym. The machine is ideal for strength training all major muscles of the body, including the abdominals, legs, back, hips, shoulders, and arms. There is a separate foot strap attachment and push-up bar that ship with the machine for performing exercises for additional conditioning exercises for both the upper and lower body. You can create your own workout sequence or use the DVD that is included with the machine to perform any of the included 60 exercises.
As mentioned previously, Pilates was designed for individuals interested in exercising their total body and lengthening their muscles. The Pilates Power Gym makes this possible, but can also facilitate a workout for individuals wanting bulky muscles. The key to obtaining either result is the amount of tension you set for the machine. The Pilates Power Gym includes two key ways to adjust workout intensity. The tension cords enable you to specify how intense of a workout you want. You basically choose to use the four tension cords in any combination, up to 16 settings, that feels suitable for you. The equipment also includes an adjustable glideboard that is heavily padded. You can adjust the glideboard into 11 different positions and three different heights. You can also easily adjust the Pilates Power Gym headrest and foot straps for your level of comfort and support.
The Pilates Power Gym is suitable for just about anyone. It is lightweight, but able to support up to 300 pounds. The equipment requires no assembly. When you're done with your workout you can tuck the equipment in a corner in any room, or use the transport wheels to easily move it to another location for storage.
Final Words: EER gives the Pilates Power Gym a thumbs up. While it appears simple in design, the Pilates Power Gym offers a significant number of exercises for a variety of fitness levels and sizes. At a cost of only $400, this machine is a great deal for any household that is interested in a single machine for a myriad of fitness goals. We also applaud the makers of the Pilates Power Gym for including a nutritional guide with the machine.