Polar FA20 Review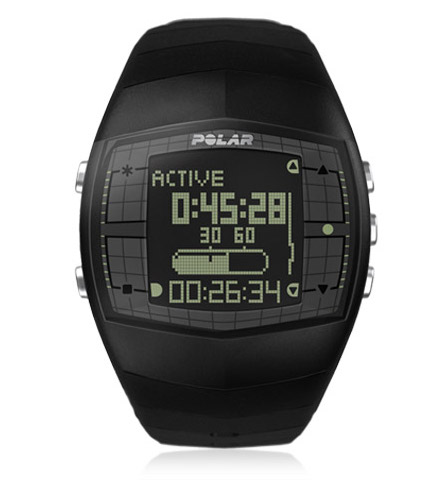 A heart rate monitor is a key element that everyone who is interested in physical fitness can use to manage and maximize his or her workouts. You could do this manually, but you probably wouldn't be as efficient. With a heart rate monitor you input your personal goals and information and the heart rate monitor does the rest. At the very minimum a heart rate monitor should let you know when you are outside your target zone. Nowadays, even the most basic heart rate monitor provides several features.
How does the Polar FA20 stand out from other heart rate monitors? This monitor was designed to provide all-day activity measurement. You wear the monitor all day and it records your physical activity in a digital format. When you are ready, you can choose to view data that shows that you are improving either your health or fitness. While improving in either area is positive, the Polar FA20 is intended to keep you inline with your goals. All that you have to do to take advantage of this advanced technology is input your weight, height, age, and gender.
Standard heart rate monitoring functions are available with the Polar FA20. As you perform physical activity, this monitor keeps track of the following:
The number of calories you have burned for a particular exercise or over a specific period of time (you can view this data as a percentage of fat or as a total value)
How long you have engaged in physical activity
The number of steps you've taken
The total distance you've traveled
Being able to track this information can help you make any necessary improvements in your fitness routines.
The Polar FA20 includes additional features. If you participate in water sports, you can take this monitor with you up to 30 meters. There are basic watch functions, such as alarm and snooze. The monitor can use a 12 or 24-hour time display, shows the date and time, and allows you to choose from five different languages (English, Spanish, Italian, French, or German) for your data display. To view your data in environments with minimal light, you can use the monitor's backlight feature. The monitor's battery is easily replaceable. There is an indicator on the display that indicates when the battery level is low.
Customer feedback for the Polar FA20 is middle-of-the-road. People are most satisfied with this heart rate monitor's quality and ability to track activity all day long and provide beneficial feedback. In particular, people are pleased with how sensitive the monitor is to motion. A majority of the complaints for this monitor are related to its price, which is about $120.
Polar was founded in Finland in the late 1970s. In addition to providing a variety of heart rate monitors for varying levels of fitness and exercises, Polar also provides software and educational resources to help people maximize their level of fitness.
Final Words: EER gives the Polar FA20 an unwavering thumbs up. Polar products have always been well-made and offer above-standard features. The 24/7-measurement feature of the FA20 can help people of varying levels of fitness reach their goals.