Polar FT7 Review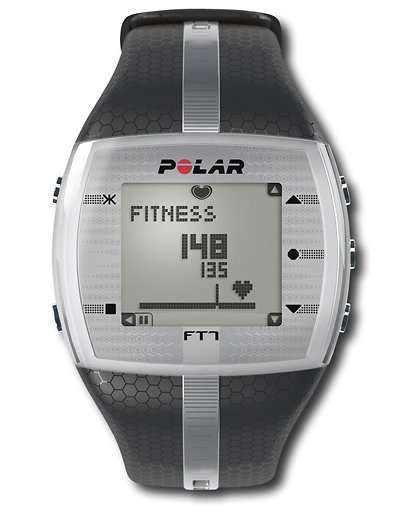 Exercising with a personal coach is typically considered something for celebrities or the wealthy. While having personal attention when you exercise is something most people would appreciate, nowadays it is not necessary. The fitness industry recognizes that not everyone will workout with a personal trainer or even have a recommended checkup before starting an exercise routine. This is where using a heart rate monitor is very beneficial. A heart rate monitor acts very similar to a coach or personal trainer, but in some respects it provides more benefits. A personal coach may understand your limits and attempt to train you within this boundary. However, they don't really know how your body is responding unless they manually take measurements. This can interrupt your exercise routine. With a heart rate monitor you don't have to stop the exercise. You simply press the appropriate button to obtain the information you want.
The Polar FT7 Heart Rate Monitor
, with men and women versions, is advertised as a training guide. While all heart rate monitors are considered a training guide of sorts, the FT7 truly communicates guidance. The monitor tracks your data and uses the Energy Pointer feature to inform you if your physical activity is improving your level of fitness or burning fat. If the result communicated by the monitor is not what you expected, you can then make changes to your routine accordingly.
Staying within your target heart rate is the most basic feature of heart rate monitors. With the Polar FT7 you can view your target heart rate data in a graph, which gives you the opportunity for a quick look while you're exercising. This monitor stores your data (calories burned, average and maximum heart rate, and time within heart rate range) and provides you the opportunity to see the results summarized for a week. As you lose weight or want to change other personal information, you can easily do so to ensure the FT7 accurately tracks your progress.
The Polar FT7 received some of the highest ratings in comparison with other Polar heart rate monitors. Price is a typical complaint that people have with Polar heart rate monitors, however, people generally consider the Polar FT7 price (about $120) suitable with its number of features. The consensus in regard to this heart rate monitor is that it offers a good mix of basic and advanced features.
Polar, the company that designs and manufactures the FT7 is undoubtedly the most recognizable name in heart rate monitors. The company has been in existence since 1977, and filed the patent for the first heart rate monitor. Today, the company has businesses worldwide that offer a variety of heart rate monitor products.
Final Words: EER gives high marks to fitness products that fit the needs of a variety of people. The Polar FT7 definitely fits in this category. For the most benefit, people need a heart rate monitor that is accurate, easy to read, and comfortable. The Polar FT7
exceeds expectations on all three points.