Precor 5.31 Review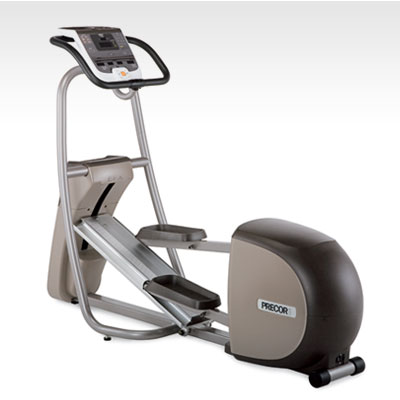 Everywhere you look, designers and manufacturers are producing products with an ultramodern appeal. This wave has not missed the fitness equipment market. Fitness equipment is beginning more and more to have futuristic designs. The Precor 5.31 Elliptical is an example of such equipment. However, the Precor 5.31 Elliptical is residential exercise equipment that has more than aesthetic appeal. It has an innovative Cross Ramp® that enables you to adjust your incline from 15 to 30 degrees and your stride from 21 to 23 inches. The main benefit of the Cross Ramp is to provide the user an opportunity to work the muscles they desire. This feature also allows you to add variety to your routine, which can make your workouts more interesting and enjoyable.
With the Precor 5.31 Elliptical you can choose from 10 different programs, including two heart rate programs and two weight loss programs. You can save settings for two people using User IDs to keep track of progress. The display console is considered user friendly and very intuitive. You can measure your heart rate using the Heart Rate Telemetry feature, but you will need to purchase a chest strap.
There are other notable features of the Precor 5.31 Elliptical. The designers of this equipment wanted to be sure that users felt comfortable while using this machine. The handlebars are motionless, but are designed for multiple grips for you to choose your comfort level. You don't have to focus on your workout while using this equipment. There is space to store an mp3 player and magazines. Keeping hydrated during your workout is important and the makers of the Precor 5.31 Elliptical haven't forgotten to add space for a water bottle.
Elliptical pioneer Precor manufactures the Precor 5.31 Elliptical. It was in the mid 1990s that Precor introduced the first elliptical into the fitness market. Precor created the elliptical in response to a need for fitness equipment that was not so taxing on the joints and muscles, and that provided an effective aerobic workout for all fitness levels.
People who use the Precor 5.31 Elliptical note quality as its best attribute. The equipment also scores high on resistance levels, variety of programs, noise level, smoothness in operation, and heart rate monitoring. What people like least about this elliptical is that it does not promote upper-body fitness and the incline ramp requires too much maintenance. Since you can't obtain an upper-body workout as you can with other elliptical machines, the $3699 price tag of the Precor 5.31 may be considered somewhat overpriced.