Precor Elliptical Trainers Reviewed

Precor elliptical trainers are about as "top of the range" as you can get. But what makes them so special?
Generally considered the founders of the elliptical training concept, Precor were the first to introduce an elliptical cross trainer to market back in 1995. Since that time, elliptical trainers have become as commonplace as treadmills in literally all commercial fitness clubs...
Precor have built an undeniable reputation for quality exercise equipment. They use only the highest-grade components and superior construction methods for an end product that is designed for years of trouble-free use. Of course this is all reflected in the price...
Precor elliptical trainers built for home use will set you back $2500 to $4000. It's a price tag that attracts only the most serious of fitness enthusiasts who demand the very finest. The latest range of Precor elliptical trainers is called the EFX range and consists of just 4 different models. Only two are outlined below and you'll realize why when you read the descriptions.
No other elliptical on the market has what Precor call the CrossRamp. By adjusting the incline of the ramp, you change the muscle groups being exercised. This ensures a variety of muscle involvement and minimal muscle fatigue. Beyond the physical benefits, the CrossRamp adds a certain amount of variety to your exercise routine.
One of the most important aspects to consider when buying exercise equipment is the warranty and service agreement. As you'd expect any with high-end product, Precor elliptical trainers all come with excellent warranties. There is a minimum of 3 years warranty on parts (5 years for most models), lifetime on the frame and 1 year for labor.
The only online retailer at which you'll find the new range of Precor elliptical trainers is Bodytrends.com. Perhaps Bodytrends' most appealing feature is the amount of quality articles and in-depth information relating to the products they sell. If you want to do a quick cost and feature comparison of different fitness products there is no better site.
Here are two Precor elliptical trainers from the EFX range. Clicking on the links will take you to more product information if you are considering purchasing one...
---
EFX 5.17i Elliptical
At a mere $2300 I've included the EFX 5.17 because it's the most "affordable" Precor elliptical trainer. A heart rate monitoring kit is an optional extra though and this model only offers a lower body workout. Unfortunately there is just one preset training program or course on this machine. The electronic monitor displays the usual readouts... strides per minute, calories, resistance level and time etc. In terms of features this is a fairly basic machine. Remember though, you are paying for the quality construction rather then bells and whistles which is always a good thing.
---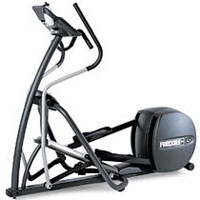 Precor EFX 5.33 Elliptical
This is the only EFX Precor elliptical to provide an upper body workout. All the others just have a static handlebar to grasp on to. The two models I haven't mentioned are similar in price to this one so there's simply no contest – stick to this model. In terms of features, a heart rate kit comes as standard as well as 8 pre-set workout courses. The incline of the CrossRamp I mentioned earlier can't be adjusted with this model, presumably because of the upper body component.
In summary if you can afford and justify the cost of the Precor EFX 5.33 elliptical trainer then don't even consider looking elsewhere, it is the best. If the $3500 price tag is out of your reach consider a Smooth elliptical trainer rather than opting for the Precor EFX 5.17. They are about half the price, rival the quality and all their models come with upper body training...
Click here for Smooths full review