RESPeRATE Review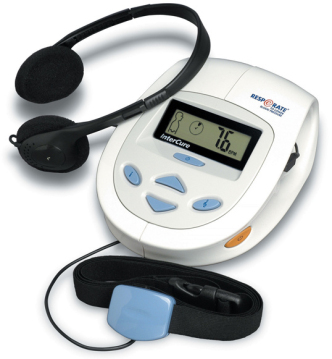 Breathing exercises have long been known to have a positive impact on your health. With uncontrolled blood pressure, your heart works too hard. Over time, this results in increased risk of heart disease and stroke. Can you safely lower your blood pressure with breathing exercises? .... We will sort out the facts of the clinical studies, how-to-use, which model is for you and what result you can expect.
RESPeRATE is the only non-drug therapy that has been clinically proven to lower blood pressure by using a portable electronic device that guides you through a structured therapeutic breathing technique. This is an FDA approved method with no side effects for people, young or old, male or female, whether taking anti-hypertension medication or just trying to lower blood pressure with diet and exercise.
RESPeRATE consists of the device, a respiration sensor, headphones, user manual and 4 AA batteries. Simply attach the breathing sensor around your chest, put on the headphones which are attached to the device and the sensor automatically analyzes your breathing pattern. It will create a personalized melody through the headphones of two distinct inhale and exhale guiding tones. As you listen, the body's natural tendency is to follow external rhythms . RESPeRATE leads you to synchronize your breathing to less than 10 breaths per minute. Within a few minutes, the muscles around the small blood vessels in your body relax, blood flows more freely, and your blood pressure is reduced.
Approved by the FDA in 2002, RESPeRATE has been proven effective in 10 clinical studies and results have been published in The American Journal of Hypertension and The American Heart Association Hypertension Primer and others. Results show patients reduced blood pressure by up to 36 points systolic and 20 points diastolic (top 10% reduction), with average reductions of 14/8 points. People using RESPeRATE for 15 minutes a day experienced a significant and sustained reduction in blood pressure within 3-4 weeks. If you stop using, like other exercises, the benefit will not be maintained.
The RESPeRATE Ultra MSRP is $349.95 for 1 user, $399.95 for 2 users and consists of: unit with interactive tutorial, breathing sensor, ear buds, memory to track progress and a carrying case. The RESPeRATE MSRP is $299.95 for 1 user, $349.95 for two users and consists of: unit, breathing sensor, set of headphones and memory to track progress. The company offers a fully refundable satisfaction guarantee for full price within 30 days. RESPeRATE offers a 30-day trial "Try Before You Buy" Program for $14.95, shipping and handling. If returned, you are responsible for return shipping costs. A monthly payment plan is available. RESPeRATE is sold through various retail stores and on-line.
QUESTIONS

Can you reduce your medication? Only your doctor is authorized to change your treatment plan.
Can this lower your blood pressure too much? No
Do you need the more expensive two user unit models? No... just share a one user unit.
How long will it take to learn to use? It typically takes one or two sessions.
Is there a cost benefit? Possibly... if you are able to stop drug treatment you save insurance co-pays.
If you are looking for a safe alternative to reduce high blood pressure within weeks, RESPeRATE
can help. As long as you follow the terms of the satisfaction guarantee, what do you have to lose?
---