Schwinn 420 Review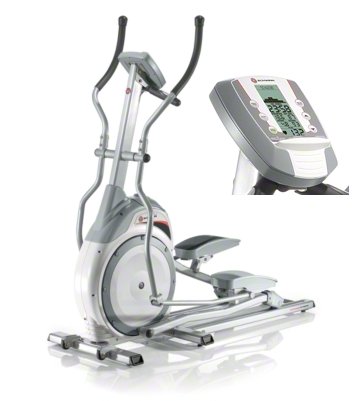 If you're a fan of the elliptical trainer to help get your cardio workouts in, the Schwinn 420 model is one that you should really consider checking out. Recently rated at the top by Consumer Best Buy, this model has many different characteristics that ensure you get a great workout in.
First, this model comes with an 18 inch stride length, so you can feel comfortable as you move throughout the action pattern and offers both forward as well as reverse motions. This is good news for those who want to work the hamstrings to a larger extent as switching to reverse motion will take care of that job very nicely. The elliptical also offers 16 different resistance levels so you can be sure it will advance with you and fully challenge you throughout the entire time that you choose to use it.
The dimensions of this elliptical are slightly larger than other models made by the same company as it stands 62 inches long, 26 inches wide, and 71 inches tall. It can support a user weight of up to 300 pounds, which is more than many other elliptical machines can, making this a terrific purchase for the individual who has more weight to lose.
The display feature comes with an LCD screen and will show you details about your speed, time, distance, RPM's, watts, pulse, calories burned, interval time, resistance level, and the course profile you are using should you have pre-selected one.
Customer complaints prove that this display can be a bit finicky at times but it seems as though it's more the exception than the rule.
With the recording on distance, you'll have the ability to switch between either kilometres or miles, so whatever your preference, the machine will accommodate. In addition to this, it also comes with an integrated heart rate monitoring system, so you won't have to worry about wearing your own while using this model.
You'll receive a good warranty on your investment in this product with five years warranty on the frame and a one year warranty on the parts and electronics. For labor you have just 90 days on warranty, which is standard among elliptical trainers and if you are taking good care of the machine, you shouldn't find that this proves to be a problem.
This model is also great as it comes with transport wheels so you can easily move it around as necessary. It does weigh in at 154 pounds, so this definitely offers added benefits.
Finally, it also contains a water bottle holder as well as magazine rack, so these added little features often tilt purchasing decisions in favour of this model.
As you can see from this Schwinn 420 review, this is definitely a top of the line elliptical model. While many other models do offer great benefits as well so you can shop around, more and more people are choosing this particular model for the above reasons. When assessing all the benefits it provides, it's not difficult to see why.