Smooth 6.25 Folding Treadmill
When you compare working out in a gym to working out at home, one of the most significant advantages that a gym has is that it typically provides state-of-the-art fitness equipment. The good news about the equipment that Smooth Fitness produces is that it is comparable to what you would use in a gym. The Smooth 6.25 treadmill is one such offering.
Well-Built
Commercial-grade treadmills are typically more sturdy than treadmills designed for home use because they have to support more people. When you have a treadmill in your home, you may not have a lot of people in your home to use the equipment, but you probably want it to last as long as possible. The Smooth 6.25 treadmill is designed with several commercial-grade features, so you can expect the equipment to last and for you to be able to experience a great workout. As with all the Smooth treadmills, the Smooth Fitness 6.25 treadmill is made with a steel frame. It also features a suspension system called Swing Arm® that is going to enable you to run or walk on the treadmill without having to endure shaking.
User Profiles
If your household consists of people with varying fitness levels and goals, the Smooth Fitness 6.25 treadmill can help them all manage their workout progress. This treadmill can store personal information, such as weight and target heart rate, for up to nine people. All an individual has to do is access their profile, choose a program, and start exercising.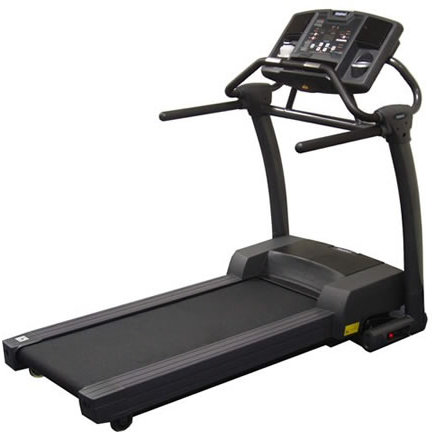 Programs
Do you want to workout on a treadmill, but not sure what settings to use? The Smooth Fitness 6.25 treadmill offers eight pre-set programs. If your goal is to lose weight, the weight-loss program can help you reach that goal. This feature is not the same as what you would find on other treadmills. Instead of a single workout program, you are able to choose from 12 intensity levels and specify your workout time. This means that you can modify your workout as you lose weight. You can choose programs that help you improve the efficiency of your heart and help you train for competitions. Calorie burning, distance, time, and interval training programs are also available.
The Smooth Fitness 6.25 treadmill also includes three custom programs that allow you to create your own workout programs. When you use any of the programs, the treadmill automatically cycles through a series of incline and speed settings according to the program specifications. You have the option of modifying the workout, if and when you deem it necessary to do so.
The Extras
The extra features for the Smooth Fitness 6.25 treadmill can improve your experience on the treadmill and enhance your workout. One of the most appreciated features of this treadmill and all treadmills manufactured by Smooth Fitness is the folding mechanism that allows you to easily move and store the treadmill.
If you have used a treadmill since the early days, you know that a quiet workout on a treadmill is as valuable as gold. The Smooth Fitness 6.25 treadmill is designed with a belt that is trademarked by Smooth Fitness. The belt is built using Whisper Weave® technology, which means that you can expect a quiet workout.
For any exercise to be considered effective, your heart needs to get a good workout. While working out on the Smooth Fitness 6.25 treadmill, you can manage your heart rate by grasping the controls on the handgrips. If you prefer hands-free heart rate monitoring, you have the option of ordering a wireless chest strap for this treadmill.
What Users Are Saying
It's difficult to find anything but good customer feedback for the Smooth Fitness 6.25 treadmill. The most common feedback is that the treadmill is well built and offers easy storage and a quiet workout-all for a current sale price of $988.
This model has also been replaced as of November 2008. Smooth recommends users interested in the 6.25 to use the
---