Smooth 7.1 Folding Treadmill
| | |
| --- | --- |
| | Whether you are interested in purchasing your first home exercise equipment, or you are looking to add to an existing collection, the Smooth Fitness 7.1 treadmill is equipment you should consider. This treadmill includes basic and advanced features that render it as above-average home fitness equipment. |
Basic Features
A key feature of the Smooth Fitness 7.1 treadmill is the console that makes it possible for you to view your pace, how far you've traveled, the number of calories you've burned, and your heart rate-all at any given time during your workout. Being able to easily view this information can help you reach your fitness goals. At any time during your workout you can easily make changes to these settings.
With the Smooth Fitness 7.1 treadmill you have the opportunity to manually select incline and speed settings while you workout, or choose from the eight pre-set programs. The target time, distance, and calories pre-set programs allow you to input your desired target and then manually make adjustments to the level of incline and speed as you workout. There are two interval programs; one for speed and one for incline. For each of these programs you specify at what level you want to workout and the treadmill automatically cycles through intervals associated with your desired level. The Smooth Fitness 7.1 treadmill also includes pre-set programs for popular workout goals, such as weight loss, competition, and heart rate management.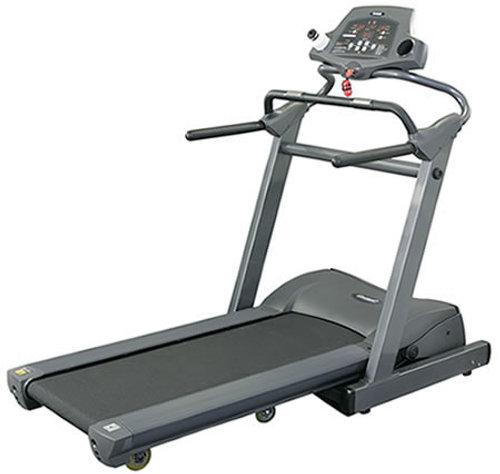 Advanced Features
The best workouts are those that produce the least amount of stress on your joints. One of the main reasons that the treadmill is so highly favored is because it is easy on the joints. The Smooth Fitness 7.1 treadmill is made with Im-Pression™ technology, which takes joint protection to new heights. All force impact from the steps you take on this treadmill is absorbed completely, so that your risk of injury is lessened and you can exercise more effectively.
A particularly popular advanced feature of the Smooth Fitness 7.1 treadmill with large households is that it can store the personal information for nine different people. Each of these individuals can input their sex, height, weight, age, and target heart rate. Another advanced feature of the Smooth Fitness 7.1 is the wireless chest strap that allows you to control your heart rate control while you use the treadmill. Since the strap is wireless, you don't have to interrupt your workout to modify the power of your workout. A key feature of the Smooth Fitness 7.1 treadmill is the push-button folding system that makes storing the treadmill trouble-free.
Customer Reviews
As is the case with other treadmills manufactured by Smooth Fitness, people are singing the praises of the Smooth Fitness 7.1 treadmill. Many long-distance athletes and converts from outdoor running, in particular, appreciate the fact they can walk or run for an extended period of time without experience fatigue or soreness. This treadmill's folding mechanism also garners high points with users.
The Smooth 7.1 HR Pro Power Folding Treadmill costs $1699, another feature that users appreciate.
About the Company
Smooth Fitness manufactures treadmills, elliptical trainers, and exercise bikes A variety of fitness-related magazines have afforded the company with numerous awards for its work with exercise equipment. The treadmills that the company produces are all considered top performers in the fitness equipment market.
The Smooth 7.1 HR Pro Power Folding Treadmill has now been replaced by the 7.6HR Pro
---