Smooth CE 2.1
It's common knowledge that regular exercise can help keep the body healthy and ward off disease, but what do you do if you're injured or suffer from health condition that prevents you from participating in rigorous exercise? Like the treadmill, an elliptical trainer is great equipment for walking, but you also have the opportunity to obtain an upper-body workout. A mid-level elliptical trainer is usually suitable for a range of people with varying needs. The Smooth CE 2.1 is an average level elliptical trainer that has received positive reviews from users and the fitness community.
The really good news about the Smooth CE 2.1 and other elliptical trainers manufactured by Smooth is that you can rest assured that the equipment is made with exceptional quality and durability. In addition, the "Smooth" in the manufacturer's name is synonymous with the operation of the equipment they produce. As with the other elliptical trainers produced by the company, an electromagnetic braking system is the key to the smooth operation of the Smooth CE 2.1. The pivoting foot pedals and roller-free mechanism also contribute to a smooth workout.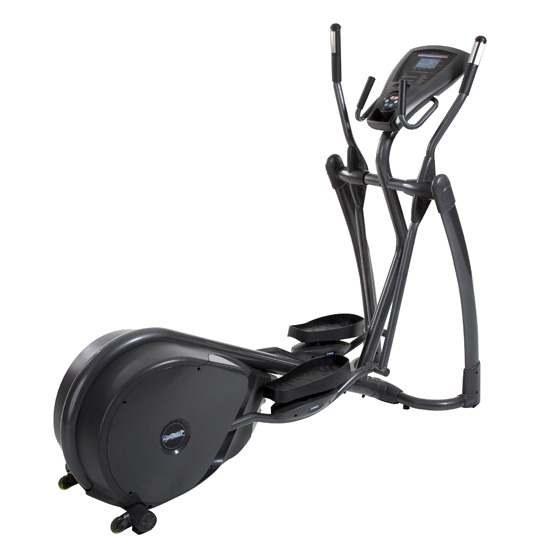 The design of the Smooth CE 2.1 is something to rave about, but the exceptional workout features are also praiseworthy. The machine is equipped with sixteen levels of resistance. This is more than sufficient to support the typical needs of beginners and athletes. In addition to resistance levels, this machine also includes a variety of preset programs. These programs are ideal because they are designed with automatic resistance settings that increase and decrease automatically during the workout. The Fat Burning program, for example, carries the user through an extended workout at a low resistance level, which promotes more calorie burning. Many of the programs have multiple programs built within them. The Random program, consists of a whopping 50 distinct programs. With any of the programs you can adjust the resistance level in midstream of the workout.
You can easily monitor your progress on the Smooth CE 2.1 from the LCD display, which shows your resistance level, calories burned, and other key measurements. The machine does not come with a wireless chest strap, but you can quickly gauge your heart rate by grasping the handlebars that are equipped with pulse sensors.
The overwhelming response to the Smooth CE 2.1 Elliptical Trainer is positive. Most people who use this equipment report that it meets and often exceeds their expectations. However, the lack of advance electronics and a wireless heart rate monitor cause some people to be less than enthusiastic about the machine. Being able to snag a quality elliptical trainer with advanced features and only a few minor insufficiencies for only $1299 should sit well with people interested in saving money and obtaining a good workout.
---