Smooth CE 2.7
One reason that home fitness equipment has become so popular today is because much of the equipment that is available to general consumers is very comparable in operation to what is available in a gym. Of course, to truly mimic a gym setup you would need a variety of equipment or a machine that enables you to workout your entire body. One machine that is designed to provide a total body workout is an elliptical trainer. Smooth is considered a top manufacturer of elliptical trainers and other fitness equipment. One of the company's favored machines with consumers and fitness professionals is the Smooth CE 2.7.
One of the shining features of the Smooth CE 2.7
is the number of programs available. With nine programs to choose from, boredom should never become an issue on this machine. It includes common programs that can assist you with increasing cardiac efficiency, burning calories, and improving stamina. You also have the option of customizing a program according to your own needs. In between these two options is a random feature that consists of 50 unique programs.
If your household is similar to the average home with fitness equipment, there are multiple people with differing fitness goals. The Smooth CE 2.7 allows you to create nine different profiles. What this means is that nine different people can program the equipment with their personal information, such as weight and heart rate target, and gauge their success individually.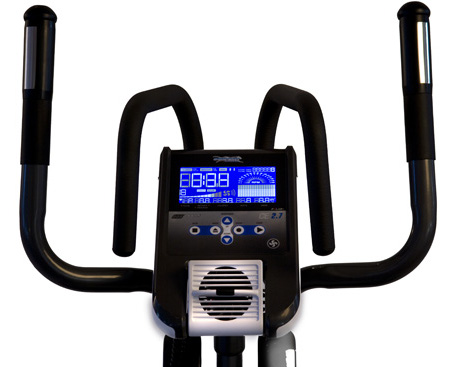 The extras that are included with the Smooth CE 2.7 can help make your workout smoother and help you ensure that you are staying within the target of your fitness goals. You can set the machine to one of three motion patterns, enjoy a smooth workout with the self-pivoting pedals, and monitor your heart rate by simply grasping the hand grips.
Users of the Smooth CE 2.7 generally find this elliptical trainer to meet all of their needs. There have not been any significant complaints reported in reference to the operation of this equipment.
Among the seven elliptical trainers in the CE series that Smooth offers, there are three that are considered more advanced than the Smooth CE 2.7 Elliptical Trainer
. When comparing their features, the advanced machines in this series have an enhanced display, include a wireless heart rate monitor that you wear around your chest, and provide a longer stride. Unless you require an elliptical with an extended stride, not having these features should not hinder your workout. In addition, the Smooth CE 2.7 costs about $1500, so you can save a few hundred dollars by choosing this model.
This Elliptical is now replaced by the Smooth CE 3.7
---