Smooth CE 7.4
With so many elliptical trainers on the market, you may wonder if the differences in the machines are significant enough to warrant buying an advanced machine over a basic one. In the case of the Smooth CE 7.4, the investment you make can mean that you won't have to worry about buying any other fitness equipment for years to come.
The Smooth CE 7.4 Elliptical Trainer
is ideal for households with people of varying fitness goals and sizes. With a stride of 21 inches, this equipment can easily accommodate users with short and long strides. The length of the stride is important because it is directly related to the effectiveness of your workout. For example, if you are taller than six feet and workout on an elliptical machine with a stride of less than 19 inches, you have an increased risk of discomfort and injury because your body will constantly try to compensate for the short stride. The Smooth CE 7.4 is adjustable, so it can accommodate users with both short and long strides.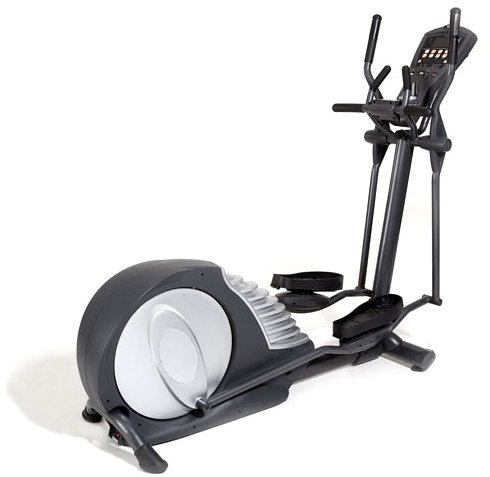 Another added bonus with the Smooth CE 7.4 is that it includes a heart rate monitor that is wireless. The other machines in the CE series offer this feature at an additional cost. The heart rate monitor is a beneficial tool for making sure that you stay within the target exercise zone that is appropriate for you.
The LED console on the Smooth CE 7.4 makes it easy to view your progress as you exercise. Instead of having to shuffle through a series of screens, the console for this machine is designed with four panels that clearly display your calories burned, distance traveled, and other important information.
The construction of an elliptical trainer can mean the difference between a workout that is smooth and one that is bumpy. The Smooth CE 7.4 is designed with two key components to ensure that every workout is even. The machine is equipped with a hardwearing flywheel that prevents the uneven motion that is common with elliptical trainers built with rollers. The unnoticeable transitions that the Smooth CE 7.4 makes during a workout are contributed to an electromagnetic braking system that is unique to Smooth elliptical trainers.
There are eight different programs included with the Smooth CE 7.4. Six of these programs, including the automatic interval, fat burning, and endurance-training programs are common among elliptical trainers. The fitness level test and metabolic equivalents (MET) program are unique to the Smooth CE 7.4. The fitness level program helps you establish your level of fitness. Once you know this information you can select other programs accordingly. The MET program enables you to choose one of 17 different intensity workouts.
The majority of reviews for the Smooth CE 7.4
are what you would expect for a top elliptical trainer from Smooth. The features that users boast about the most for this machine are the well-built design, flexibility of stride length, and quite operation. Users of this machine also appreciate that they were able to buy a top quality machine that cost just under $2,000.
---