Smooth Agile DMT Elliptical
Workouts that train both your upper and lower body are ideal for overall fitness. When you're shopping for fitness equipment for your home, you may feel that you have to purchase several pieces of equipment to obtain a total body workout. Since equipment of this type can cost upwards of $3000, very few people opt for one piece of equipment. If you prefer just one piece of equipment, you may consider the Smooth Agile Dynamic Motion Trainer (DMT) Elliptical Trainer.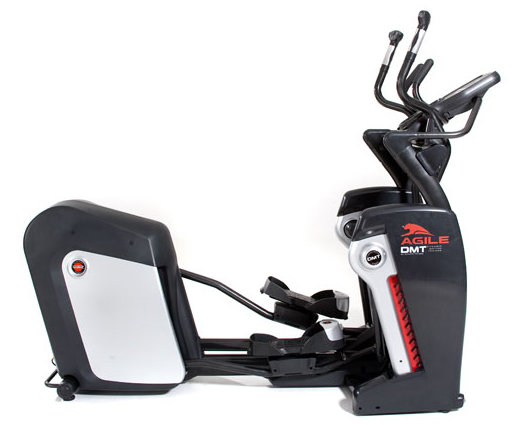 Basic Features

The Smooth Agile DMT Elliptical Trainer is not your typical elliptical, but it does include features that are standard to advanced home fitness equipment. Since people expect to have such equipment for an extended period of time, it is important that they have a variety of programs to prevent them from being bored. The Smooth Agile DMT Elliptical Trainer includes nine different programs. Like many elliptical trainers, this machine has a manual program as well as programs to help you reach specific goals associated with endurance, fat burning, distance, and heart rate. There is also a program for resistance training.
The Smooth Agile DMT Elliptical Trainer
is a large machine, but the transport wheels make it easy to move the machine from one location to another. Another basic feature is the water bottle holder.
Unique Features
There are several unique features of the Smooth Agile DMT Elliptical Trainer. The two most outstanding features are associated with the foot pedals and handlebars. A common misconception of elliptical trainers is that there is a low risk of joint damage. The complete opposite is true if the elliptical trainer's motion doesn't fluctuate. Probably the most significant feature of the Smooth Agile DMT Elliptical Trainer is the varying motion of the foot pedals. Instead of moving in a single forward motion like most elliptical trainers, the pedals can move forward, in reverse, or both. This is a significant feature because it enables you to work a variety of muscle groups. The pedals are also designed to provide a smooth workout that reduces the amount of impact that your joints incur while you workout.
The patented Life Touch feature of the Smooth Agile DMT Elliptical Trainer enables you to regulate your workout from the handlebars. If you want to change your workout motion or intensity level, all you need to do is move your thumb across a sensor on either handlebar and select one of 12 motion levels and one of 12 intensity levels. The handlebars also display your heart rate reading.
Customer Reviews
People who have bought and use the Smooth Agile DMT Elliptical Trainer generally have positive comments regarding this fitness equipment. Many people complain that at a cost of $3999, the equipment is very expensive. Of this group of complainants, most felt that they were essentially getting several pieces of equipment for the price of one and were glad they made the investment.
The prices are fluctuating greatly between $2599 to $4999. At the time of this review, the following link takes you to the cheapest price seen to date:
Smooth Agile DMT Elliptical Trainer with Adjustable Motion