Smooth Agile DMT X1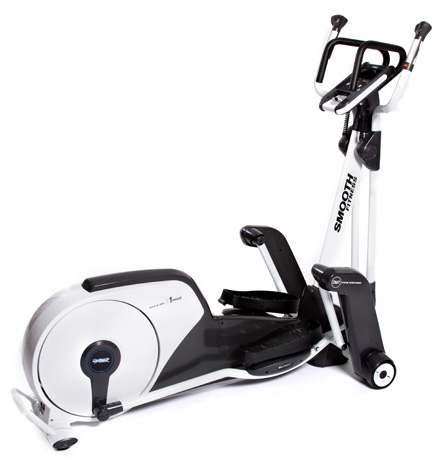 Dynamic Motion Trainer (DMT) may sound like a lofty name, but it is suitable for the Agile DMT-X1. What makes this equipment different from other elliptical trainers is its multi-motion system. A traditional elliptical trainer only permits its users to move with one motion. The Agile DMT-X1 allows its users to choose from 12 different motions. As if that wasn't sufficient, you can also choose from 16 different levels of intensity for each motion setting. Boredom should never be an issue with this machine.
The Agile DMT-X1 is the entry-level DMT produced by Smooth. In addition to multi-motion capability, which is a feature of all Agile trainers, this machine also has other unique features. Pedals are key components of any elliptical trainer since this is where you will perform most of your action. The DMT-X1 has foot pedals that ensure a comfortable and safe workout. There are cushions on each pedal that are designed to absorb any shock that is directed at your joints. The pedals, which the manufacturer calls "articulating," prevent heel slap. This is a significant benefit because constant heel slap can lead to sore feet and painful joints.
As is common with elliptical trainers, the Agile DMT-X1 includes programs for interval and endurance training, watts control, fat burning, and heart rate training. Each program is designed with a specific goal in mind. Once you select a program, the equipment sets you on a specific course that you can modify at any time. If you feel creative, you can create a custom program using the three core programs: calories, distance, and time. If you like a custom program, you can save it and use it whenever you want.
The Agile DMT-X1 also includes extras that can enhance your workout. It includes a wireless heart rate sensor, a fan, and a holder for a water bottle. The handlebars include sensors that enable you to modify the intensity and motion setting with a quick slide of your thumb. With this feature you can workout without having to stop to modify the equipment settings.
The DMT-X1 is a high-end machine and garners very few, if any, complaints from those who have used it. The aspects of the equipment that get the highest acclaim are its $1999 price tag (other machines in its level are much more expensive), the variety of motions, and quiet operation. For some people the machine is too bulky and heavy. I give the equipment a thumbs up for providing a total-body workout that is easy on the joints.
The DMT-X1 is manufactured by Smooth, a company that is touted as a top online provider of home fitness equipment sold online. In addition to agile trainers, the company also produces elliptical trainers and treadmills.
This product has been replaced by the DMT-X2
---