Sole F83 Review
Cardiovascular exercise is considered by many medical and fitness experts to be the best method of exercise for physical fitness and weight management. This form of exercise is also highly recommended by professionals because it is easy to do. Lace up a pair of sneakers and you can start running, walking, or performing any other cardiovascular activity. While you can get fit with cardiovascular exercise without any equipment, fitness equipment can offer the protection for your joints that cement, gravel, and parquet surfaces can't offer. The treadmill is a tried-and-true machine that facilitates safe cardiovascular training.
There are many treadmills on the market. If you have ever used a treadmill in your hotel room, there's a good chance the machine was made by Sole. This company has been in the business of designing and manufacturing treadmills for more than 20 years. The company produces two mid-level treadmills: the F80 and F83. The Sole F80 experienced a significant amount of success in the market. The company bumped up the Sole F80 with a few additional features and called it the Sole F83.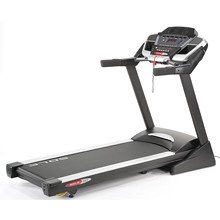 As you would imagine from a top mid-level treadmill, the Sole F83 includes standard treadmill features. You can choose from six preset programs and two heart rate programs that offer a variety of training options. If you use one of the preset programs and want to change it up a bit, feel free to do so with the Sole F83. If you prefer to create your own program, this machine allows you to create two of these. There is a vivid three-color display that enables you to keep track of your progress. In addition to viewing your heart rate, you can view the number of calories you've burned, the distance you've travel, the amount of time you've been working out, and of course your speed, distance, and incline. There are two cooling fans, as well a wireless chest strap for gauging your heart rate. You have the option of using the hand pulse grips to measure your heart rate. The machine includes speakers and an MP3 plug-in so that you can listen to your favorite music while you exercise.
Many fitness experts recommend at least 30 minutes of daily exercise for general health. Although the treadmill is generally revered for its low impact on the joints, it is possible to experience joint pain if you use it to workout on a regular basis. As with all treadmills produced by Sole, the Sole F83 includes a Custom Flex Whisper Deck that is based on the use of large rollers that are nearly 3" in diameter. The average treadmill boasts a cushion system with a 15% reduction in joint stress. The Sole F83 delivers as much as a 40% reduction to all the major joints affected while exercising on a treadmill. The large rollers also provide additional comfort. Another safety feature of the Sole F83 is the long belt. This machine extends a few inches longer than its precursor machine. The longer belt helps to prevent you from falling off. People with longer legs will appreciate not having to worry if they are extending their legs too far back.
Two negative aspects of the Sole F83 in comparison to its predecessor are its weight and price. The machine weighs about 10 pounds heavier than the F80. This may not sound like a significant amount of weight, but it does make a difference when you have to set up the machine and if you need to move it. It will take two strong people to move it, and about a half hour to assemble. The Sole F83 costs about $300 more than its forerunner. Many people may not consider the additional options sufficient cause to pay the higher price.