SP1000 Stretch Partner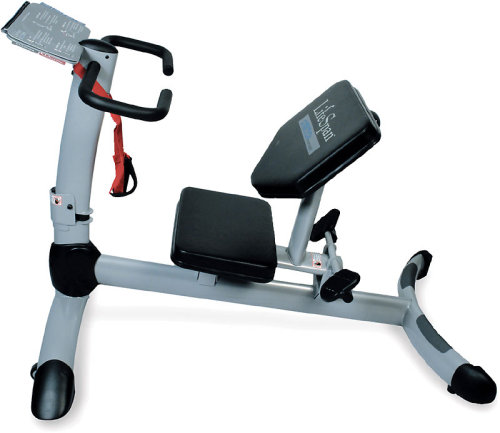 Offering a better way to do stretches before or after strenuous workouts, the stretch partner is endorsed by PGA and LPGA coaches as well as coaching staff for tennis players and baseball players. The machine has won two awards, including the Fitness Professor Award and the Great Gear of the Year Award. It has been mentioned by name in a number of magazines as well as on sports talk radio programs.
The Basic Premise of the Machine
The Stretch Partner is meant to help guide you through a series of eighteen stretches, designed to work every major muscle group of the body. Its benefits are listed as helping you not only reach your full range of motion but to help for training in any sport, at any fitness level. The lower back exercises that are shown are also supposed to help reduce the amount of back pain that one feels. Improved posture is another side benefit to the Stretch Partner, which in turn can make you feel and look more toned and slimmer.
Machine Specifics
Using the smart pivoting system, the machine is designed to allow for maximum range of motion with each and every stretch. Gravity is used to obtain the stretch and the machine helps to achieve proper body positioning. It has a solid steel frame and is listed for a maximum body weight of three hundred pounds. It has transport wheels so that it can be moved from place to place with ease.
Warranty
For personal use, the Stretch Partner has a five year warranty for the frame, two years for parts and 90 day warranty for the upholstery and bumper. When used commercially, the warranty is valid for a maximum of three hours of daily usage and covers the frame and parts for one year each and the upholstery/bumper for 90 days.
Extras and Special Offers
Included with the Stretch Partner is a DVD which guides you through the stretching routine. There is also a guide that shows you the same moves and a handy flip chart that can also be used. Free shipping is included in the price of the Stretch Partner at this time.
Opinions
The Stretch Partner has been recommended by professionals who range from athletic coaches, chiropractors and physical therapists. It is used commercially in senior citizen fitness centers, health clubs and physical therapy treatment centers.
The Bottom Line
The Stretch Partner is a well made, solidly constructed machine and the price reflects that. It is a pricey $599, even with the free shipping and handling which might put it out of the reach of some home budgets. However, it is solid steel and should last well beyond its warranty period, even with daily use. If it can do half of what it claims, it is well worth the price. A flexible body can improve all aspects of your daily life and this can be the machine that helps to deliver just that.